Putting the pieces together to show the whole picture
A leaner, stronger wholesale ecosystem
"Costs need to be taken out of supply, distribution, and retail if the sector is to effectively support the transition to electric and autonomous vehicles."
Owen Edwards, Head of Downstream Automotive,
Grant Thornton UK LLP
More is expected – and needed – from the automotive supply chain. From digitalisation that drives efficiencies and enables new opportunities, to sustainable practices and partners who can facilitate vertical integration from factory gate to end of life. Increasingly, large fleet owners are seeking efficiencies, and operational and brand consistencies across borders too. The line between wholesale and retail is blurring, the vehicle parc is compressing, and vehicle utilisation is changing.
The wholesale ecosystem encompasses all the services, solutions and technologies that enable the vehicle market to function effectively as it moves from one owner to another and ultimately retail. But, with so much change, it needs to be both leaner and stronger. Digital technologies support dealers, fleets, and manufacturers, while consumers benefit from systems that deliver enhanced mobility solutions. Vehicles cascade through channels in a way that opens up opportunities for manufacturers, fleets, and dealers.
Creating a streamlined and joined-up experience between wholesale and retail is no longer optional. With increasingly digital processes, and increasing consumer expectations, businesses at every stage of the automotive lifecycle need to consider how they will contribute to realising efficiencies and maximising new opportunities. The future of automotive lies in cooperation, collaboration, and partnership. To meet changing consumer needs, the wholesale ecosystem has to adapt and remove as much friction from the process.
"Increasingly, automotive organisations are taking a digital-first approach to meet developing consumer expectations. But it is important to recognise, however much technology is introduced to the process, we are still talking about a physical asset. Vehicles still need to be stored, moved, and driven. The way the industry manages that process may be evolving, but the principles stay the same."
Philip Nothard, Insight & Strategy Director at Cox Automotive
Stellantis: a case study in vertical integration
Stellantis acquired AramisAuto in France back in 2016, adding Clicars in Spain in 2017, and Cardoen in Belgium in 2018. More recently, the manufacturer integrated CarSupermarket.com and the MotorDepot Group in the UK. The outcome is a multi-brand, digital-first, used vehicle sales channel. It is a highly vertical business with centralised sourcing, pricing, reconditioning, online sales and home delivery. In one year, the business sold 87,000 vehicles; three quarters to consumers.
As we entered 2020, some commentators were already arguing that new car registration figures were reaching unsustainable levels, artificially inflated and in need of a rebalancing to a more 'normal' result for the market. Imbalance in supply and demand was already putting pressure on used vehicle values, with readjustment expected in the coming year.
The Cox Automotive dealer sentiment survey in January 2020 found that almost half of dealers (48%) expected new car transactions to decline, despite also expecting consumer confidence to increase (52%).
There was also an optimistic approach to the used car sector, with three fifths (57%) expecting used transactions to increase (Cox Automotive, 2020).
While there are some similarities to the post-financial crash of 2007/8, we must recognise that the impact of COVID-19 may be much more extensive than the fallout of an economic recession. Pressures have been (and continue to be) felt throughout production and supply chains at all levels, upstream and downstream. The new and used car markets recovered differently post-2007, and we expect to see the same this time round.
Diverting attention to focus on the pandemic response has also left manufacturers and retailers with an uphill battle to prepare for Brexit; the potential for World Trade Organization (WTO) tariffs and rules; and Block Exemption regulations. Will the UK continue to form part of the Corporate Average Fuel Economy (CAFE) legislation for CO2 reduction? Will manufacturers still want to launch new models in the UK? How will global OEMs view the UK new car market in isolation?


Moving forwards, not backwards
"I don't think things will go back to the way they were, and I don't think they should. We've learned a lot as a business, and as an industry. There will be a place for physical auctions but also much more in the way of multichannel selling. Our various online channels, like Dealer Auction, may be used to sell vehicles upstream. We're trialling timed auctions to provide more convenience. We'll see lots of innovation. Some of it will stick and some of it will fail. But the direction of travel is an exciting one."
Liam Quegan, Managing Director, Manheim Auction Services
Focusing on sustainability
One of the key trends impacting the wholesale ecosystem is an increasing drive towards sustainable operations and business practices. Significant investment will be required throughout the supply chain if total vehicle lifecycle emissions are going to be reduced – not just at the tailpipe. Organisations need to consider how they can use technology to provide a more streamlined and convenient service, boost customer satisfaction, and manage the social and environmental impact of their activities.
It isn't a new phrase but ESG – environmental, social, and corporate governance – has come to the fore over the past 18 months. Investors are increasingly viewing prospects through an ESG lens, seeking to identify risks and growth opportunities based on their impact on people and planet. With a significant cash injection required to ready the automotive sector for the next stage of its development, businesses need to ensure they have the right answers when investors start asking questions.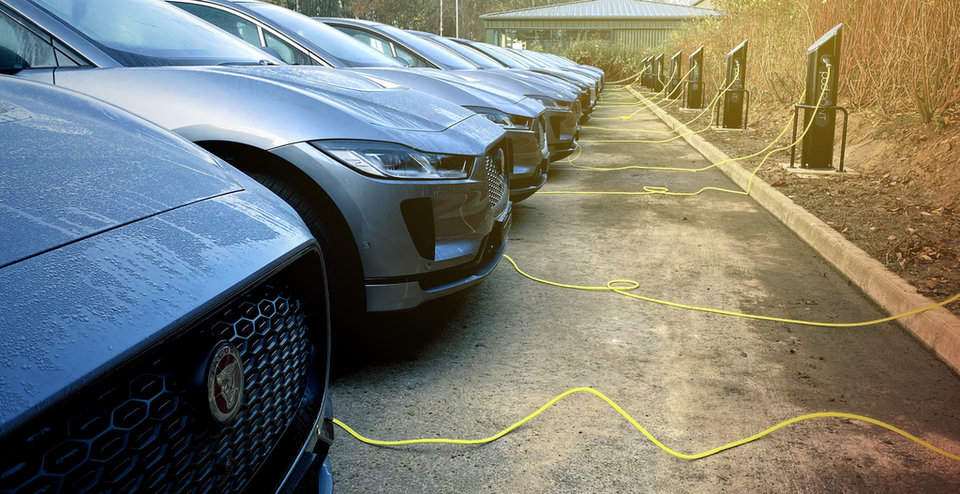 Spotlight on Manheim Vehicle Services UK
Manheim Vehicle Services UK provides storage for more than 60,000 vehicles across six locations; processing in excess of 250,000 vehicles every year. While the sector is becoming increasingly digital, the physical infrastructure required to manage and move so many vehicles has also seen an upgrade.

The organisation has invested in gas catalytic systems which cut paint drying time from 35 to 9 minutes, use 75% less energy, and achieve a quality control failure rate less than 1%. Automatic car washers process 800 cars per day, reducing water waste. And, as noted in the Insight Report 2020, Cox Automotive is also investing in rolling out electric vehicle charging infrastructure across its real estate.