Used car forecast
Coping with price rises and an appreciating asset
Image: OceanProd - stock.adobe.com
In the first half of 2021, the Society of Motor Traders and Manufacturers (SMMT) data showed the used car market tracking +33.3% on the same period in the previous year, with almost 3.86m transactions at the mid-point of the year. While the rebound was strong, this was still -4.9%, or around 200,000 units, short of the figure for 2019, largely due to continued lockdowns and showroom closures in the first quarter of the year. However, all months in Q2 2021 outperformed their equivalents in 2019, with April up +5%, May up +9.9%, and June up +4.6% on the pre-pandemic figures.

Market share for alternative fuels in the used car sector remained low in the first half of the year, at around 1.3% for plug-in vehicles. SMMT suggests the number of used plug-ins changing hands in Q2 2021 was comparable with the new car sales in the third quarter of 2015, implying a possible five or six-year lag in the used car transition to new energy vehicles. However, demand is creeping up and there is a market emerging, albeit a small one currently, for pre-owned low-emission vehicles.

Supply chain shortages in the new car sector have had a knock-on effect in the used market, with buyers who can't wait to change their vehicle now considering older models. Used car demand is driving up prices in a way that hasn't been seen before, with some commentators suggesting that the unspent or accidental savings from the various lockdowns are also fuelling the rise. There is also a potential impact from individuals who are not yet ready to return to public or shared transport but still need to get around, with investment in a used vehicle an acceptable compromise.

In an example of the odd state of the market, anecdotal comments suggest some customers in the US and Canada have been able to buy-out from their lease agreements, then resell the vehicle immediately for a profit. This is not an option in all US states, or in the UK, but it demonstrates quite how strong the market for used cars is today. Fleet and rental sectors have been forced to retain existing stock for longer and are now buying used because they cannot get new vehicles to support their customers.
Franchised dealer sentiment
In the UK, more than nine in ten dealers (96%) indicated that they have changed their stock profile as a result of COVID-19 or supply constraints. This includes one in five who are now retailing more brands, models, or fuel types. Almost two-fifths (38%) are retaining more vehicles for retail, while the same number is supporting stock with a higher age or mileage profile. Three-fifths (58%) expect the change in stocking policy to be permanent.

Source: Cox Automotive Survey June 2021
While cars are typically treated as a depreciating asset as soon as they leave the forecourt, exceptional demand this year has seen used car prices reach record highs. This is not just a UK phenomenon, with many other international markets also reporting similar experience. Indeed, the rise in second-hand car prices was identified as one of the drivers of both UK and US inflation in July 2021. European markets have also seen used car price rises as a result of economic recovery and pent-up demand.
Cox Automotive Australia confirmed average used car asking prices had reached about AUS$31,500 in June 2021, up around $8,000 since the pandemic began but softening slightly in July and August. In the US, the average listing price reached $25,829 in August according to vAuto Available Inventory data. They were up +19% in August relative to a year earlier, according to the seasonally adjusted Manheim US Used Vehicle Value Index. Through the first half of September, wholesale used-vehicle auction prices in the US increased +3.6% vs. August. That was also a +24.9% increase vs. September 2020.

"The story right now is about used-vehicle demand strengthening. With relatively low inventories leading to tighter conditions, we are witnessing more price inflation. There's a very low probability of wholesale prices being lower than they are right now before the end of tax refund season in 2022. In our planning horizon, we don't see new vehicle production starting to normalize until after 2022 and used car supply will be challenged through 2024, leaving total supply tight."
Jonathan Smoke, Chief Economist at Cox Automotive Inc
In the UK, Cox Automotive saw an average wholesale used selling price of £7,152, marginally up on September 2020 when the market had just reopened post-lockdown. Data from Auto Trader UK in September 2021 highlighted one in ten nearly new used cars was more expensive at retail than its brand-new equivalent. The strength in used car valuations is driven by long lead times and short supply in the new market, with a possible annual increase in values of around 30% by the end of the year. Usually, what goes up, must come down. However, the bubble is unlikely to burst, with a gentle softening more likely given today's market conditions and the future vision for the new car sector.

Philip Nothard, Insight and Strategy Director at Cox Automotive: "Highly sought-after vehicles are not only becoming harder to source, but also more expensive to purchase. The current market is undersupplied with used cars, leading to overinflated wholesale and unsustainable retail prices. However, even if supply rebalances, we are now entering a new era of used car values, which will be higher on average than we've seen before."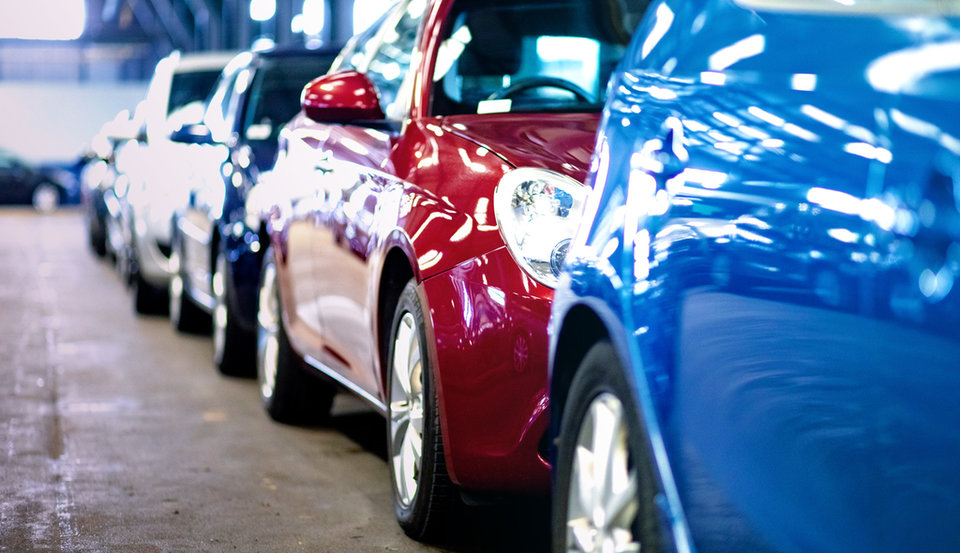 Although new car supply issues did not hit the UK hard at the start of 2021, Brexit stockpiling has now run out and new car availability is severely limited. Very little production now takes place in the country, and what there is does not supply the UK market, which means it could take longer for manufacturers to restock. In addition, reprioritisation to electrified vehicles means many of the traditional ICE models are not at the top of production schedules. A recent What Car? Survey found 31% of used car buyers were originally in the market for a new car but had to switch to get better availability.
According to the Cox Automotive UK Monthly Market Tracker for September 2021, average mileage was up +9.81% year-on-year, to 68,885 miles. The average age of vehicles going through the auctions was also up, reaching 102 months, a +16.5% increase on the previous year. With dealers and fleets being encouraged to compromise on age and mileage, there is a question about whether one US trend might make its way across the Atlantic Ocean. Insurance write-offs are commanding strong prices in the US, with some buyers feeling they could make the necessary repairs for less than the cost of an inflated used vehicle.
Philip Nothard, Insight and Strategy Director at Cox Automotive: "We are operating in a market starved of stock. While wholesalers are doing their utmost to keep supply flowing, the general profile of available vehicles is typically older and higher mileage than most would desire. However, this is no time to be picky, and it is important that dealers compromise in order to obtain stock. Stock is moving fast, and there's no time to wait around. This is unlikely to change in the short to medium term."
Cox Automotive and Grant Thornton UK used car forecast 2021-23
The average annual figure for used car transactions over the period 2001 to 2019 was 7.38m, shy of the respective totals for 2018 (7.95m) and 2019 (7.94m). The impact of the pandemic in 2020 was to knock back used car transactions to 6.75m for the year, a massive drop from the peak of 8.2m units in 2016. Strong performance in the latter months of the year, despite winter lockdowns, meant this was up slightly on the Cox Automotive and Grant Thornton forecast from last year.
In the Insight Report 2020, used car values at the time were seen as unsustainable. However, continued pressure on supply has prompted a continuation of this trend. The medium to long-term may yet see a realignment in values, with used cars finding a new baseline in comparison to an increasing new car price profile. But this is unlikely in the immediate future, as challenges remain in sourcing sufficient used vehicles to meet the current consumer demand. In addition, with the new car market seeing an increase in prices, values in the used car sector are likely to remain higher as well.
Philip Nothard, Insight and Strategy Director, Cox Automotive: "There is no reason for values to drop in the short-term, with little sign that the new car supply issues will be remedied any time soon. However, continued economic uncertainty may have an impact. That said, some of the used vehicles in market were previously under-priced, the cost of a new vehicle is rising sharply, there is much less in the way of discounting at first sale, and it may be that we see used values higher across the board going forward. A softening is possible, but a fall to pre-pandemic levels is unlikely."
Used car annual forecast 2021
In last year's Insight Report, the forecast for this year was between 6.41m and 7.08m used car transactions. With a strong start to the year, the Cox Automotive and Grant Thornton forecast through to the end of 2021 is now 7.14m. The forecast for 2022 sits at 7.50m. With supply returning to the market in 2023, the current forecast is for 7.51m used car transactions.
Used car annual forecast 2021-2023
Combined, the new and used market is likely to sit at around 9.5m vehicle transactions each year, compared with the heights of around 10.5-11m transactions in peak periods over the past 15 years. Indeed, the past decade has been distorted by pre-registration activity, tactical discounting, and strategic shifting of vehicles around the marketplace. With manufacturers taking on the asset risk through the agency model, a change in the vehicle mix to accommodate more electrified units, increased cost of vehicle production, and a recession in the coming years, it is highly unlikely these registration figures will be seen again.

"In the last recession, between 2007 and 2014, the UK used car market realigned for a lower volume of vehicles. However, the fundamental way in which it was structured did not change. The post-COVID-19 automotive market is unlikely to return to a previous norm, especially without further government EV stimulus, and we agree with our colleagues in the US that it is likely to be 2025 before we see the combined new and used car markets reaching pre-pandemic volume highs. We are entering a new level of used car future values."
Philip Nothard, Insight and Strategy Director at Cox Automotive
Cox Automotive and Grant Thornton UK used car scenarios 2023 and beyond
Like in the new car market, the Insight Report 2021 is looking at several possible scenarios this year rather than a best, mid and worst-case position. These scenarios are also influenced by many of the same factors as in the new car market: necessity, affordability, availability, and economy. Considerations such as ongoing supply chain issues in the new market, continued fallout from COVID-19, the impact of Brexit, and other driving forces will play a significant role in shaping used car market trends over the coming decade. The impact of further economic uncertainty also needs to be considered.
As with the new car market, used car trends are likely to be driven by the number of cars required in each household. This will be influenced by commuting requirements and personal preference around private vs. public transport. People may well keep hold of vehicles for longer because replacements are in short supply, leading to an eventual influx of older and higher mileage vehicles into the market. In addition, demand for short-term rental vehicles could increase, if consumers are unable to get hold of new or used stock that meets their needs.

As the market makes the shift to electric and new energy vehicles, it may be the case that there is an upsurge in demand for nearly new petrol and diesel models from consumers who feel they are not yet ready to switch. While most manufacturers will no longer be making new ICE vehicles by the end of the decade, there is likely to be continued consumer demand for traditional fuels which will see these vehicles remain in the vehicle parc for many years to come.
Used car values are running ahead of expectations and this is likely to lead to an adjustment in residual value setting for finance agreements in the new car market. It may also impact on the finance for used cars, where consumers are becoming increasingly comfortable taking on a monthly payment plan for older stock. The online-only retailers and car supermarkets are taking advantage of their agile business models to get hold of vehicles directly from the consumer; however, other players in the sector are now looking to do the same.

By the end of the decade, today's electric and alternative fuel vehicles will be in the second or third-hand market. Values are likely to be impacted by how quickly technology has advanced and the solutions developed around replacing or recharging batteries to ensure they maintain capacity and support new infrastructure. It is likely new subscription models will be developed to support consumers in moving between different types of vehicle dependent on their needs, while flexi-rental products will also expand to support different levels of customer affordability.
The immediate supply issues in both the new and used markets should resolve themselves over the coming years. However, by the middle of the decade, the switch in manufacturer production from ICE to EV is likely to cause further bottlenecks in the supply chain. Varying ownership and usership patterns will see used vehicles come into the market at different change cycles, meaning it will be harder to predict the best times to buy and sell.

There could be opportunities in the aftermarket, with innovative services to support vehicle ownership and usership outside of traditional manufacturer or dealer relationships. The advent of the agency model for new vehicle retail is likely to create further incentive for dealers to develop customer relationship management platforms that focus on service rather than product to support long-term loyalty and retention, irrespective of the vehicle being driven.
Responding to the economy
Used car values have been a bellwether of inflation in both UK and US markets in recent months. They are likely to remain a strong indicator of economic recovery, or otherwise, worldwide. There is a risk and likelihood, explored in the scenarios below, that the UK could find itself facing further economic pressures from the middle part of the decade onwards, particularly as the government seeks to recoup the costs of COVID-19. This could have a significant impact for perhaps 10-years, or more, similar to the 'austerity years' post-2007. In the short-term, inflation will impact prices across all parts of society, causing challenges particularly for demographics who rely on used vehicles because they cannot access finance.
The used car forecast scenarios
Scenario 1: take a rain check?
In this scenario, the recovery from the impact of COVID-19 is expected to be slow, although vehicle requirements are likely to increase from 2025 onwards. Supply constraints will continue throughout the decade, with a lack of good quality used stock beginning to impact on the choices people make to switch to newer electric and alternative fuel vehicles. It is possible the economy could face pressure in the latter half of the decade, with significant impact on vehicle requirements, disposable income, and business performance. The new car market will also continue to be affected by raw materials shortages and supply chain issues, to the point that vehicle production figures are lower than demand across all fuel types.
Scenario 2: keep calm and carry on
In this scenario, markets are set to recover fairly promptly from the pandemic. While some lingering effects may remain and, like the virus itself, become endemic, the buying and selling of used vehicles is likely to return to something resembling a 'business as usual' state of affairs, albeit realigned to a new level. Supply could remain an issue in the medium-term and there are likely to be some economic declines around the mid to latter part of the decade, but these may have short-term rather than long-term impact.
Scenario 3: back to the future
In this scenario, the bounce back is likely to be quick, with people returning to offices, commuting more, travelling for leisure, and perhaps even requiring a second or third vehicle to meet their family's needs. This could push up demand, as well as supporting strong values throughout the decade. Government fiscal stimulus will support business model innovation and reconfiguring the automotive sector to meet the technology demands of the future. Issues around supply chains, raw materials, and skilled labour shortages will be resolved, allowing the automotive sector to get on with the job of decarbonising transport.