Agency vs. franchise model
Embracing new ways of doing business
Philip Nothard, Insight and Strategy Director, Cox Automotive: "We know that manufacturers are moving further upstream, wanting to go direct to the end user. There's a lot of that taking place. Both buyers and sellers want faster decisions, greater transparency, more knowledge-sharing, and a more efficient process."

Just 12 companies now control 45 automotive brands. With consolidation in the market comes inevitable discussion around economies of scale and more effective retail distribution models. Dealerships are expected to remain at the heart of vehicle sales for many years to come; however, their relationship with the manufacturer and consumer looks set to change. While the agency model is not a completely new concept – Daimler introduced a version in Sweden in 2019 – it has become a hot topic of conversation over the past two years.

Manufacturers like Honda and Mercedes-Benz have committed to this route in Australia. Volvo has announced plans to sell all vehicles direct by 2030, and Volkswagen has signed new agreements with dealer partners in Europe, by which customers will be able to order vehicles directly and select their preferred dealer for personalised customer care and local services. Agents will look after the acquisition, sales consultation, organising of test drives, transaction process and vehicle handover.

"We see interesting differences across Europe. It certainly isn't one market. For example, the big dealer groups are getting bigger and acquiring smaller groups. Consolidation is a real trend. However, this is much more accelerated in Northern Europe than in countries further south. A similar pattern can be seen around the digitalisation of the used car space, which is happening quicker in the northern European market."
Mike Mosier, Sales and Operations Director, Cox Automotive Continental Europe
Manufacturers are taking a pioneering role in Australia when it comes to introducing the agency model, with pilots across several brands. Honda has switched to selling vehicles through 'Honda Centres', with 90 locations managed by 47 owners. Previously, Honda had 106 dealers. The approach features 'no-haggle, drive-away' prices and a fixed price servicing plan for every new Honda. Metallic paint and five years' roadside assist will also be standard across the range, which has been pared back to focus primarily on high-spec models.
Mercedes-Benz launched a direct-to-buyer sales model for its EQC electric car in the Australian market at the end of 2019. Nine dealerships signed up to the approach, with a view to focusing on marketing, handover, and servicing. The approach also featured fixed pricing and online retail. Franchise dealers remained a key part of the process. However, more recently, dealers have been asked to sign up to a new agency sales agreement covering all new vehicle sales, as well as the ECQ brand, and parts and service. The change goes live from 1 January 2022.
Hyundai has also joined the direct-to-customer approach, asking dealers to refund any deposits for the Ioniq 5, due at the end of the year, so buyers can go direct to the corporate website for a non-negotiable fixed price. At this stage, however, the manufacturer has said it intends to distribute all other models through the standard dealer network. The justification to go direct-to-customer with the Ioniq 5, it says, is because of intense interest and restricted supply.
Genuine or non-genuine agency?
There are subtle differences between a genuine agency model where the manufacturer sets prices and manages the relationship, and a non-genuine model where the dealer still has flexibility in the process. While the risk is split more evenly in the latter, the preference seems to be for genuine agency because it offers more clarity over the roles and responsibilities. The likes of Smart, Daimler, and Volvo are pursuing pure agency in some markets, while Volkswagen is looking at more of a hybrid model.
Many dealers remain undecided about the potential impact of the agency model on their business; however, it is clear most manufacturers are moving in this direction. Trade bodies representing dealer groups in Australia, Germany, the UK, and other markets have questioned exactly how the model will be deployed. It seems as though many manufacturers are now moving quicker due to the impact of COVID-19 on global vehicle sales, yet dealers remain in the dark as to how they will be affected by the roll-out.
While benefits include not having to invest in a showroom or hold stock, the reality is many dealer agents will still require physical premises to support customer service, mobility solutions, and engagement activities, as well as fulfilment of a 36m used vehicle aftersales marketplace. In addition, there is a suggestion many will move to a multi-brand operation with a heavier emphasis on used car and aftersales. They will also need to lease demonstration vehicles from the manufacturers for test drives. Markets like Malaysia and India, where dealerships have been loss-making in recent years, may benefit from reduced overheads; however, they will still need to recoup past investment.

Additional challenges in deploying the agency model include legacy IT systems, lack of existing data integration, and the significant cost burden. Manufacturers will take on much of the business risk from the dealerships. In addition, laws worldwide may not necessarily support direct sales, i.e., the state-by-state protection laws in the US. However, markets like China and India also present potential barriers to the agency approach. The reform of European block exemption regulations is likely to make it difficult to run wholesale and agency in parallel.

Much of the evolution in business models is being driven by acceleration in electric and autonomous vehicles. Specifically, it may be possible for a manufacturer to run both a franchise model and an agency model if there is clear differentiation, i.e., the latter looks at electric vehicles only, but this is still being questioned on a legal basis.
The continued need for physical retail
"We know that the sales model is shifting. We will still need physical routes to market for the next 15+ years, but there is a growth in hybrid and fully digital models. With manufacturers increasingly exploring the agency model, for reasons of customer experience and data management, we are likely to see more direct-to-consumer sales. This is combined with an increase in digital-only used car platforms, which are growing in market share."
Sebastian Fuchs, Managing Director Manheim and RMS Automotive Continental Europe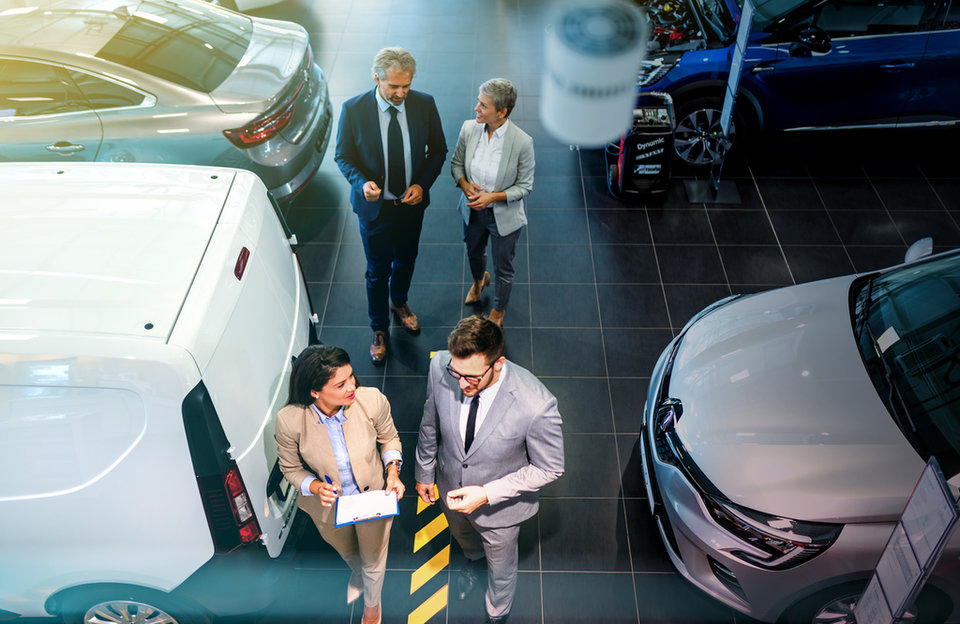 In the Europe, Stellantis has terminated all dealer contracts for its 14 brands with effect from June 2023. It has cited several reasons for this. For example, as a business, it expects to deliver around 70% of sales from low emission vehicles by 2030. The block exemption legislation is up for renewal. The online journey is evolving at pace, with the pandemic accelerating customer demand. Stellantis has acknowledged not every market in Europe is the same, with nuances around maturity, network construction, and investment, which means that what works in one market won't necessarily work in another.
A legal response statement from the National Franchised Dealers Association (NFDA) in the UK
Full text available here.
Putting aside the question of whether the agency model represents a good outcome for consumers, the risks associated with implementing a distribution model that – if not structured correctly – fails to satisfy the complex and strict legal criteria applicable to it are substantial. From a competition law perspective, these range from huge fines (up to 10% of group turnover) to director disqualification (up to 15 years) for the senior management of the businesses involved.

The sector faces two enormously difficult challenges as part of any potential transition:
For those parties who wish to pursue a 'genuine agency' model, there is danger that they undervalue the market-specific risks that OEMs will have to remove from dealers' shoulders (both going forward and on a legacy basis) to benefit from benign competition law treatment. Further, those that seek to apply a partial agency model – for example, an agency model for certain products, brands or activities and a normal distribution/reseller model for others – (and to distinguish markets artificially to avoid having to undertake a holistic analysis of the risks incurred by dealers outside any agency arrangement) could also face difficult challenges. Competition law focuses on substance over form and looks at the economic reality of the situation. This involves examining the whole relationship between an OEM and a dealer as well as the use and treatment of sunk dealer investments for agency activities going forward, which is a far more complex exercise than simply drawing an easy line between past and future investments, and between agency activities and non-agency activities for the same OEM.
For those OEMs who might propose a 'non-genuine agency' model on the basis that they are prepared for their agents to share commission with customers (and so retain some control over the transaction price), this can also create genuine antitrust risk. Depending on the circumstances, such arrangements could give rise to competition law infringements (indirect RPM) if dealers are, in reality, prevented in practice from advertising discounts or otherwise constrained by narrower (agency) margins from offering anything that resembles a true discount to consumers. This issue also needs to be very carefully examined taking into account the economic reality of the situation.
Inevitably, any transition to a sales channel that will diminish or eliminate intra-brand price competition will attract regulator interest, particularly a competition authority such as the CMA, which has an increasingly strong consumer protection agenda, wide enforcement powers, and an appetite to stamp its independent practice on the post-Brexit economy.

Indeed, complex competition issues and substantial risks aside, the transition to agency has the potential to attract the application of other rules that will present unexpected consequences – duties and liabilities – for those involved, which do not seem to be fully appreciated at this stage.

It follows that any transition to agency – the commercial benefits of which are uncertain – will require detailed consideration (and open debate) on the part of both the 'principal' (OEM) and the 'agent' (the dealer) before implementation. If certain OEMs persist with the model regardless, at least in the UK, the risk of adverse consequences should not be underestimated.

This is why the NFDA, on behalf of its members, is open to engaging with interested third parties (the CMA, OEMs, their representative bodies, etc.) to ensure that, if the market does evolve in this way, it does so in a manner that recognises and respects the appropriate rules and delivers the best outcome for consumers.