The dealer and fleet viewpoint
Getting ready for an electrified future
In September 2021, Ipsos Automotive revealed the results of a mystery shopper study which took place in May and June across 12 of the largest EV markets in the US. Mystery shoppers documented their experience with 201 EV dealerships across 22 brands, compiling a scorecard around knowledge, availability, and dealer readiness. The results showed many dealer websites lacked EV-specific content, dealership staff required more specific knowledge to have in-depth conversations, and a lack of stock was hindering test drive opportunities.

Things are seemingly not much better on the service side of things. In the UK, the Institute of the Motor Industry (IMI) said in December 2020 that just one in 20 technicians working in garages and dealerships was certified to safely maintain and service battery-powered cars. While certifications were on track to meet 2030 requirements, if sufficient technicians remained in the industry, restrictions from COVID-19 have derailed progress. In July 2021, the IMI said just 6.5% of the automotive sector was 'EV-ready'.

Philip Nothard, Insight and Strategy Director, Cox Automotive: "There is a misnomer in various global markets that dealers don't want to go electric; that they are resisting change. However, the reality is that change costs money. To support education, training, infrastructure, and more, there will need to be a concerted effort and investment from governments, manufacturers, and the wider supply chain."
Preparing the service centres
EVs are likely to require less maintenance as they have fewer moving parts. However, there is a need to ensure technicians are trained to safely deal with the high-voltage components. As manufacturers increase the electrified models in their line-up, there is a growing requirement for their training schools to include EV and hybrid knowledge in accredited courses. There is a shift from it being a mechanical to technology-based role, which requires different skillsets.

With manufacturers instructing dealerships to invest hundreds of thousands of dollars, pounds, and euros in preparing for EV sales, some groups are pulling out. Around 200 of 880 Cadillac dealers in the US decided to close rather than investing at least $200,000 in each site to retail EVs. Ford has also asked all dealerships to invest in a $35,000 EV certification to retail new vehicles, while Volkswagen of America offered low-interest loans of up to $100,000 for facility upgrades.

For dealers and workshops looking to work on more EVs, there is a need to check cabling and infrastructure capacity. Upgrades may be required from the local distribution network operators if there is insufficient power supply to install the charging infrastructure. It is recommended for each servicing bay to have its own charge point as well as customer charging infrastructure in the car park.

Service centre managers will also need to invest in insulated tools, rubber PPE, a non-conductive barge pole, and security equipment to restrict access to EV space. It is also important to consider whether existing lifting equipment can lift heavier EVs, while also thinking about the changed centre of gravity depending on where the battery is positioned and whether it is in situ or has been removed to work on the vehicle. Ventilation is also important.

The direct-to-consumer sales approach for EVs will be explored in chapter 4.0. However, it is clear there is a significant cost barrier to dealerships and service centres making the switch to EV. As well as the potential of losing larger dealership and workshop brands, another concern is that independent dealers and technicians will choose to retire or change careers rather than upskill and invest in expensive new equipment. This could impact choice for consumers in the future.
Additional revenue streams
As dealerships invest in charging infrastructure, there are several revenue streams which may open up to support customers. Examples include creating VIP charging experiences for drivers through loyalty and membership schemes. If the dealership is in a convenient location, it might be possible to open up charging facilities to prospective customers as well. Dealers may also want to explore home charger deployment, providing a smooth customer experience and ensuring opportunities to retain relationships with drivers long after they have left the showroom.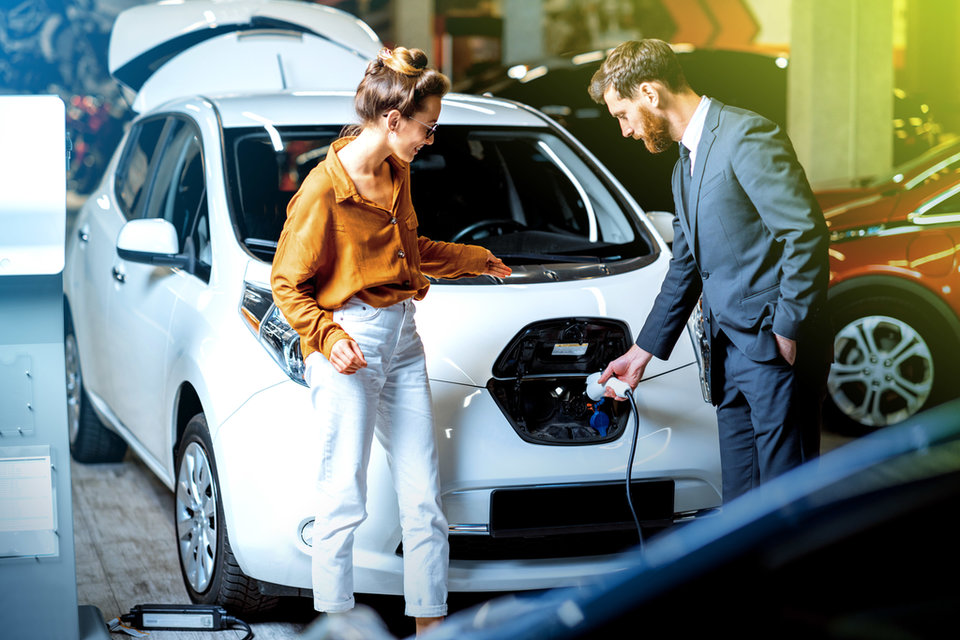 Education rather than sales
The UK's first multi-brand electric vehicle showroom, the Milton Keynes Electric Vehicle Experience Centre (MKEVEC), opened in 2017 following a £9m investment in the city as part of the Go Ultra Low Cities Programme. Offering 20-minute test drives as well as flexible vehicle experiences from two to eight days, the goal is to provide consumers with advice and information. The site, which is open seven days a week, does not sell vehicles but has manufacturer partnerships with the likes of Audi, Skoda, Vauxhall, Volkswagen, MINI, BMW, Renault, Kia, and Nissan.

In a similar approach, Arnold Clark launched an £5m Alternative Fuel Vehicle Innovation Centre in Glasgow in August 2021. The site has been developed in partnership with Transport Scotland, OLEV, Scottish Power, Energy Saving Trust, Go Ultra Low, Strathclyde University, and The NVT Group. Around 100 members of the public visit the centre every week to discuss their options for switching to alternative fuels with 'product genies' whose remit is to educate and inform rather than sell.

With direct-to-consumer models on the horizon for many manufacturers, there is an opportunity for dealers to keep their relationship with drivers through education and information centres. How these evolve to generate both footfall and also drive sales opportunities, even if those are via the manufacturer website, will be interesting to see. There is a large number of consumers who will still want to 'kick the tyres', experience test drives, and benefit from relationships with their local dealership. The importance of the dealer in helping consumers with the transition to electric should not be underestimated.
Ian Richardson, Managing Director of 360 Media Group:
"Several of the UK's largest fleets had already made commitments on sustainability grounds to electrify their vehicles by 2030, if not earlier. But now every fleet decision maker knows that the switch to plug-in cars is no more than two replacement cycles away. The pace of transition is set to increase exponentially, with significantly higher EV sales in 2021 than 2020, and then rising sharply again in 2022.
"Faith in the whole life cost of electric cars remains an issue for fleets, but the new generation of battery-powered makes and models is swiftly overcoming range anxiety. The dramatic pace of change is presenting new opportunities for car makers that previously accounted for modest fleet sales, and challenging the traditional fleet heavyweights.
"It is also placing demands on leasing companies to be flexible in contract lengths; to work with fleet customers to identify the drivers and vehicles best suited to be in the vanguard of the new EV wave; and to consult on the best recharging strategy. Fleets are also raising their expectations of their leasing suppliers. Driver profiling tools to identify which employees could switch first to electric cars, and the option to bundle the cost of installing a home charger into a lease are both key areas where fleets are seeking assistance."