The automotive industry has weathered three years of profound disruption, brought on by the three-pronged effect of the pandemic, supply shortages and the priority-shifting focus on net zero.
That storm, which includes the additional force of demand returning to normal levels as the cost-of-living crisis continues to bite, is still shaping the new market's future and has had a marked impact on the used arena as well.
Production volume loss and obstacles to recovery
Statistics tell us that, globally, an incredible 42 million new vehicles were not built as a result of pandemic lockdowns1. That loss of production volume has had an obvious and long-term influence on the used parc. The number of future used vehicles depends on new vehicle totals of the past. The cumulative effect has seen something of a circuit break, with the amount of cars entering the used market cut severely.
Although used market numbers have taken a hit, demand has been consistently strong, at least until recently. The market is now on the other side of that peak and, until economic headwinds settle, including the cost-of-living crisis, we will see changes in how used vehicles are bought and owned. Industry analysts think the lockdown period, when leisure, shopping and entertainment venues closed their doors, allowed many members of the public to save money which they are now, in turn, eager to spend on a vehicle.
That pronounced demand has eased in the second half of 2023, but Cox Automotive forecasts for the full year say the number of transactions will exceed 7.1 million units, a 4% year-on-year increase.

The easing of supply chain disruptions has fuelled sales growth in every month of this year so far.
However, the 7.1 million figure is 3% below the average pre-pandemic yearly total (2001-2019). With various obstacles in place, a more substantial recovery closer to pre-pandemic numbers should not be expected until early-to-mid 2024 or beyond but will be still well short of the market's 8-million-vehicle peak. Factors such as global economic conditions and energy-related issues remain significant potholes on the road to recovery.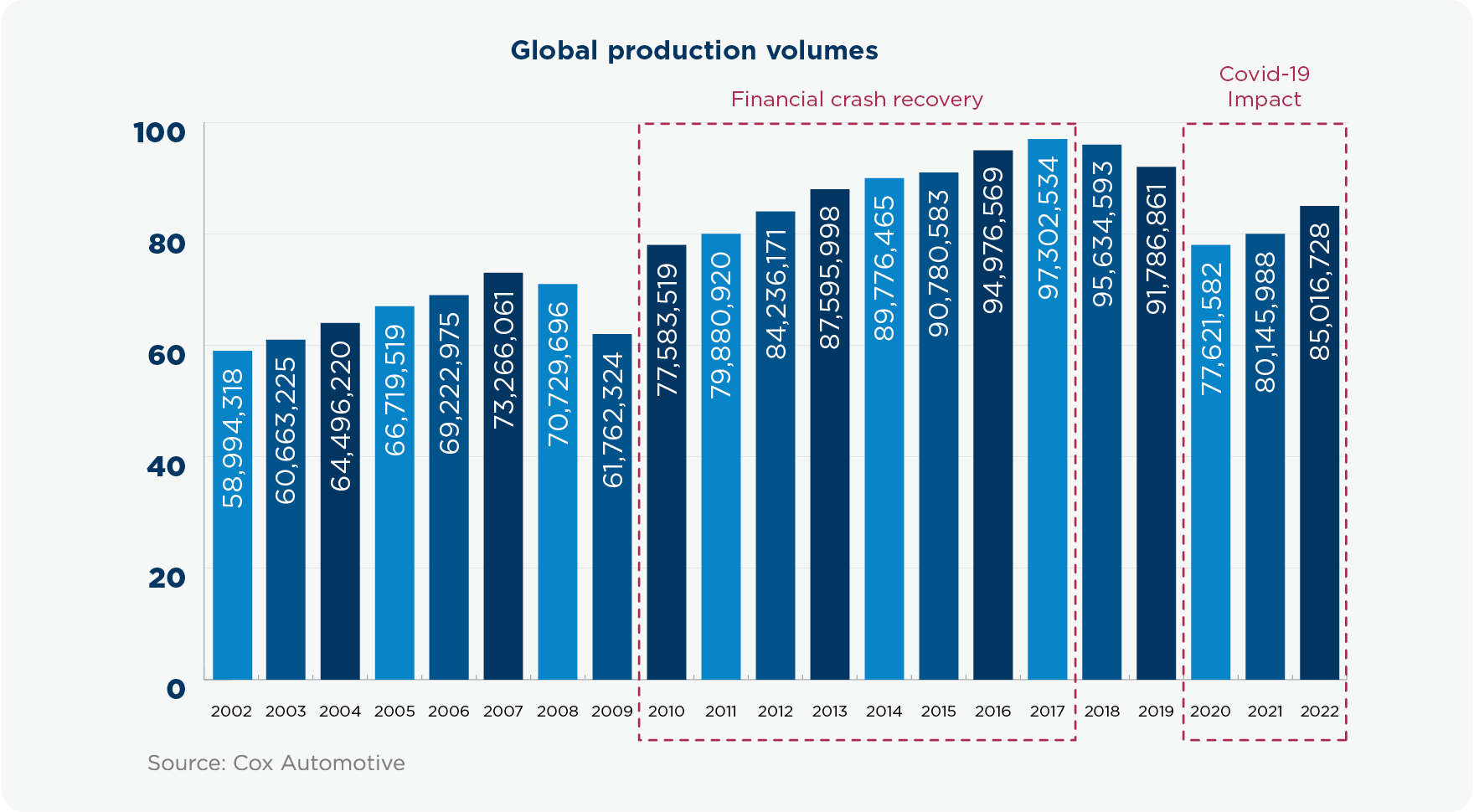 The new vehicle number drop, coupled with strategic decisions being taken by manufacturers on EV production, as well as their prioritising profit over volume, has permanently impacted the future composition of the used market. Used market players face a changing landscape where the impact of demand and supply on valuations has become increasingly evident in the UK with strong increases in retail prices and used vehicle profit margins.
Rumours of a "cliff edge" in used vehicle values have been exaggerated and we maintain that the used market is demonstrating an above-seasonal average realignment of values. Rather than a crash, on average values remain significantly above where they should have been without the pandemic. Crash fears should fade once the economy stabilises. Although not impossible given the economic situation, a crash in used vehicles is unlikely in the UK due to the shortage of used vehicle volume, which is expected to continue for several years to come. Therefore, prices may decline, but over a more gradually. However, different fuel types will likely exhibit different pricing behaviour, with BEV pricing more volatile than ICE or hybrid. The sudden price drops for new BEVs, such as Tesla reducing its MSRP in the UK, Europe, US and China, is a contributory factor.
The reduction of new cars moving into the used market has forced dealers to consider how they can best fill their forecourt space, in essence, to diversify their stock profile. This is being done in a number of ways:
A large number of dealers have been forced to maintain revenue streams by entering a higher-mileage, older vehicle marketplace. Retailers more used to operating in an up-to-three-year-old market have had to change their mileage and age limitations.


Franchised dealers have also been diversifying their product offerings. In the past, they typically stayed within their comfort zones, primarily stocking the brand they represented, alongside a limited selection of non-franchised vehicles that adhered to strict condition, age and mileage criteria. However, there's been a notable shift in stock strategies. Franchised dealers are increasingly embracing a more diverse mix of brands, broadening their range to include vehicles with higher mileage and age profiles. Meanwhile, supermarkets and independent dealers are exploring new procurement channels as their traditional sources change. The automotive market landscape is evolving and dealers are adapting accordingly.
Although forced into it, dealers have become aware of the profit opportunities presented by a different, previously untested stock profile. Some dealers will continue to work happily in these new arenas, others will scale back.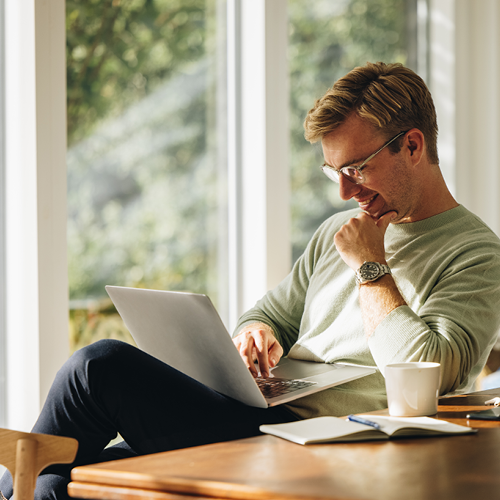 The ever-growing online marketplace
The past three years have seen retailers source stock in a variety of new ways and the indications are that the future selling of vehicles will, increasingly, see dealers getting a stronger grip on the digital space.
Just as consumer habits have evolved, whereby most people nowadays opt for the ease of buying consumer goods online, dealers are also increasingly choosing to fill their forecourts using digital sources, where speed and quick turnaround are a big attraction. Sourcing from consumers directly outside of the part-exchange, or via online marketplaces, is a permanent feature of the sourcing landscape.
However, recent coverage has found that many dealers continue to value physical used car auctions over online sales despite the rise of the web marketplace.
Certain vehicles suit digital sales, but many trade buyers prefer to see, smell and touch stock before they buy it.
The question is, for how long will used car dealers persist with the traditional way of doing things? And will there always be a place for physical sources? We think so, particularly because it reduces risk in the acquisition process at a time when mistakes in sourcing are getting costlier. Dealerships, how they work, how many there are and how they present themselves – these will change. But speaking to many of our partners, we've found that many dealers believe physical marketplaces retain the potential to give them a competitive edge, to sniff out the best deals and boost their stock profile.
EV pricing and the future
Choice for used dealers and customers has narrowed in recent years, especially as the UK's ICE deadline, albeit recently pushed back to 2035, approaches. The number of EVs moving into the used marketplace is increasing, but pricing appears to be volatile in the short term – it seems price anxiety may be swapping places with range anxiety.
There have been hints of price stabilisation, as certain makes and model achieve a level closer to parity with ICE. However, the speed at which battery technology is evolving, the lack of BEV used price data and uncertainty surrounding battery degradation, as well as increasing numbers of new entrants who are extending the choice of models available while lowering prices, will result in continuing volatility. This is a new market that's yet to find its feet.
At the moment, automotive is a two-tier structure, where new vehicle registrations are being driven by net-zero 'carrots'. Taxation benefits, or salary sacrifice 'perks' are fuelling EV uptake and are the only incentives currently in use as the advantage of fuelling costs is much diminished as energy bills have risen. The used buyer gets no such encouragements. They face the same challenges as those who bought the EV new (including charging infrastructure, questions about range and insurance questions). Many would-be buyers, seeing the recent price drop in used EVs, might be thinking they are now a more attractive proposition than before, but they are no doubt bearing these concerns in mind.
Recent research by Regit2 found that 92% of drivers are concerned the country's charging infrastructure is unable to meet current demand while 69% are sceptical it will be good enough by 2030. It's clear that public concern regarding infrastructure persists, but we are on a road to change and there's no going back. As manufacturers continue to roll out EVs, consumer knowledge and attitudes will evolve while infrastructure needs will have to be addressed.
Nonetheless, by the end of this year, more than a fifth of 0-to-1-year-old vehicles in the UK parc are expected to be EVs. The sector must prioritise education, knowledge-sharing and, arguably, pushing for more government-led incentives to make the prospect of owning an EV compelling for more people. There is also a case to be made for the standardisation of battery health testing. Only then will the used car sector be motivated to carry more EV inventory.
As the BEV market evolves and market volumes change, dealer networks will fine-tune their after-sales services to align with consumer interest, pricing dynamics and information resources. While substantial investment is needed to ensure dealer readiness for the electric future, notable progress has been made in enhancing aftermarket technical support.
Manufacturers in the used space
The shift to agency, for some, is a strategy merely aimed at controlling price. But there is enough evidence to suggest that the move is a question of control. If manufacturers are seeking to keep a rein on how much their new vehicles cost, wouldn't they also want to have a semblance of control over those cars when they enter the used market?
Manufacturers will, at some point, need to become more involved in the used space than they are currently. Stellantis, for one, is already a major player in the used market. It launched online direct sales of used cars in the UK and Europe through its SPOTiCAR platform. It's the official used vehicle programme for Peugeot, Vauxhall, Citroën, Fiat, Jeep and Abarth. Its global reach now extends to 14 brands and SPOTiCAR has also recently launched in the US, offering pre-owned vehicles across a range of brands. Stellantis has described itself, amid the move, as a "multi-brand, pre-owned vehicle operator". The company also owns Aramis Group which, in the UK, owns MotorDepot. Heycar, jointly owned by five companies, including VW and Mercedes-Benz, also has a significant presence in the used space.
The strategic move by manufacturers to transition used vehicle sales to the agency model is very much a topic under consideration. However, given the intricacies involved and dealers' undeniable expertise (as well as their commercial dependence on this sector), a major shift into this area is still, arguably, a long way off for many.
Manufacturers already have enough hurdles to overcome, dealing with seismic changes in the new market, before tackling used. Indeed, some industry experts say many manufacturers, as the agency model beds in, are more worried about taking on used responsibility than they are new. Some are already finding that 'new' responsibility is more difficult than they thought.
And for the car buyer, would they be more attracted to a dealer's approved scheme that comes with a used purchase, or manufacturer's?
Used car supermarkets: losing control of stock?
Some large dealerships selling a wide variety of used cars, so-called car supermarkets, have had a notably difficult time in 2023. Born out of an under-supplied marketplace, as well as a lack of control on the part of manufacturers and franchised dealerships, many supermarkets have continued to do well. However, several have been hit by stock scarcity.
With the stock types they depend on thin on the ground, and fiercely fought for in the wholesale space, margins have been squeezed to the point where long-term viability has come into question. Consequently, we are seeing strategic changes and consolidation in the car supermarket space in the UK, Europe and the US, with diversification of core propositions and site closures. As the whole concept of supermarkets is based on high volume, huge choice and fast stock turnover, are we likely to see more consolidation in this area and perhaps greater numbers of dealer group supermarkets?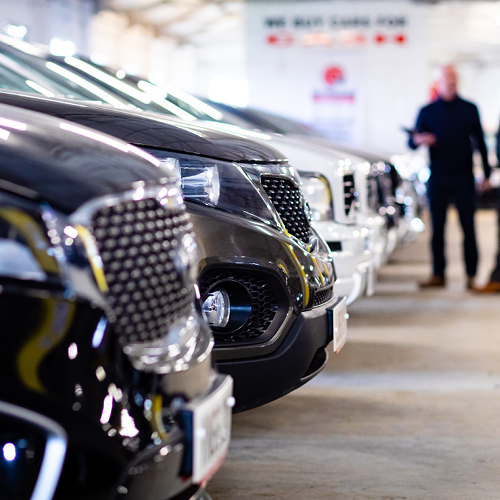 The dearth of new vehicles has seriously hit the number subsequently coming into the used market. It has still managed to perform, in terms of revenue, thanks to an increase in the average price of a used vehicle. It may be the case that dealers who aren't performing as successfully as they would like are perhaps not adapting to new realities. This, arguably, leaves some more vulnerable to rapid changes in the market.
Sourcing the right stock at the right price is crucial to survival, as is the ability to process and remarket those vehicles effectively. Dealers who are keenly aware of what buyers want and who are willing to adapt and source stock in new ways while making all customer interactions fast, efficient and satisfying will have a sound business footing for many years to come.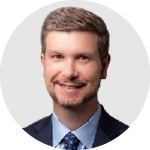 chief economist, cox automotive INC.
Changes to the used market and remaining successful…
The retail market has become more fiercely competitive as new digital-only entrants as well as traditional dealers, have focused on growth in used to drive their overall growth. However, given the decline in new vehicle production and sales, the used market will be limited by the lack of vehicles and specifically younger used vehicles less than five years of age in the car parc. Margins will be challenged as dealers vie for limited wholesale inventory. At the same time, much higher interest rates and tighter credit conditions will limit the potential buying power of the traditional used vehicle buyer, which puts a ceiling on used car prices. Affordability challenges are much more significant in the used market, at least in the short term.
The rise of digital retailing in the used market requires investment and scale in marketing to keep up with larger, nationwide brands. The consumer wants and needs to know the monthly payment as part of the shopping process.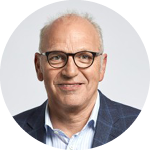 Director Future Mobility Lab @Uni St.Gallen, Lecturer @HfWU Geislingen
Changes to the used market and remaining successful…
The used car market has experienced a remarkable revival in the past three years due to new car production shortages in Europe, resulting in price increases. These sales results significantly boosted the profitability of OEMs and retailers, capturing the full attention of industry players and captive banks. In this context, I observe two major trends emerging in the used car market:
The professionalisation of all significant players


A widespread acknowledgement in retail that used vehicles are key to maintaining their service area under full capacity.
As we are re-entering a buyers' market (after three years of the opposite), used prices will continue to slide for some time. This symptom should be seen as a signal to return to old retailing in which UCs, in many cases, were a by-product of the retailer's income statement.
Used cars and services represent the new core of future retail. New cars (far more controlled by the OEM than ever) should be seen as a top revenue and profit opportunity for a stable retailer.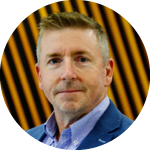 Director of Strategy & Marketing, Cox Automotive Australia
Changes to the used market and remaining successful…
Retail and wholesale used inventories are climbing as the new market grows and private buyers and fleets offload existing vehicles, and this naturally has a downward effect on prices, which have come down about 5% from their mid-2022 peaks.
As we have seen in most regions of the world, new vehicle shortages and price spikes have driven significant demand uptick for used vehicles, distorting their prices, which presently sit around 40% higher than before COVID-19 (our Price Index uses December 2019 as a baseline).
Two clear emerging trends are the continued higher relative prices of older used vehicles, as demand at the bottom end remains high due to cost-of-living pressures, and the problematic resale values of used EVs, given the market favours new vehicles.
Used vehicle purchase incentives and standardised battery health scores loom as essential mechanisms to break this cycle, in particular, to encourage fleet uptake and thereby market EV penetration at scale.
Structural changes to the used market include companies such as market leader Toyota launching 'genuine' used vehicle programs eating into traditional sources of stock. Longer-term, we expect some interruptions stemming from the great lack of vehicles imported and sold between 2009 and 2022 – in relative terms.
Given the looming shadow of agency, Dealers would be smart to pivot to a greater focus on their fixed operations and used car lots. For the latter, they should consider consolidation into centralised sites and embracing omnichannel sales and marketing tactics.
As predicted in Europe, it's also probable that we will see hybrid cars and fuel-efficiency ICE vehicles hold their value well, given ongoing scepticism regarding used EVs, as these vehicles represent a way to reduce one's fuel bills and emissions without requiring any behavioural changes.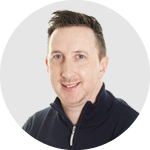 Director of Manheim Commercial Vehicles, Cox Automotive
Changes to the used market and remaining successful…
The current used average age and mileage stock profiles are the most significant change affecting the used vehicle LCV parc today. With both demonstrating a 13-15% increase versus pre-pandemic average levels, this challenges used stock dealers and second-life vehicle operators' dynamics in an unprecedented way.
A large proportion of vans operating on UK roads today have been worked to extreme levels during the pandemic. That is now having a significant knock-on effect with fleet operators who report that as much as 30% of fleet assets today are currently at vehicle off-road time (VOR) status.
The current used LCV market asset price remains an extremely positive news story, with used price levels currently tracking at 35-40% stronger than pre-pandemic averages. That has allowed van operators to sell any used/extended/VOR assets for strong market value returns. I would encourage fleets to re-invest these profits in new fleet assets that will support business growth, ULEZ and EV target goals for the future.