Improved productivity and 'normal' market dynamics return
In this section, we discuss the primary factors driving the current new car market and share our latest new car forecasts.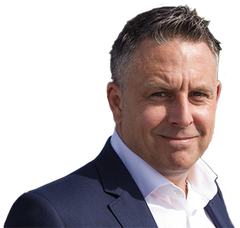 Philip Nothard, Insight and Strategy Director
In recent years, failures within the supply chain have led to significant and well-documented supply shortages in the automotive industry. As a result, many OEMs have had to decide whether to remain in a 'pull' market – where manufacturers produce vehicles based on consumer demand – to maximise their commercial opportunities, or return to a 'push' market – where manufacturers dictate the volume of vehicles that are supplied to the market.
There's no denying that vehicle supply has improved ahead of expectations, and this is what is causing manufacturers to reassess their priorities. The publication of the 2022 production volumes revealed more than 85 million cars and LCVs had been manufactured throughout the year – a +6.08% year-on-year increase and a drastic improvement on the lows of 77 million seen in 2020. While previously global production had reached heights of 97 million pre-pandemic, it's a positive result, particularly with the global economy's headwinds.
Despite this positive result, we should acknowledge the challenges that remain in productivity. Over the last three years, global production has decreased by -14.73%, or a loss of 41.9 million compared to the previous three years (a loss of 31.6 million or -17.35% for cars and a loss of 5.3 million or -7.23% for LCVs).
Global production recovery is not uniform
The rate of recovery in productivity is also not uniform and is largely dependent on locality. For example, US production has increased 10% year-on-year, while European markets all together fell -1% compared to 2021 and -25% down on pre-pandemic 2019 figures.
And then we must consider China. Despite talk of the Chinese market remaining static, it has, in fact, increased production from 25.7 million in 2019 to just above 27 million in 2022, a +3% annual increase. While this percentage may seem insignificant, it is essential to note that China has increased production by one million units per year for the past two years and has stated some very ambitious growth plans.
As we discussed in the previous issue of AutoFocus, new Chinese automakers have already made significant inroads into the UK and European retail sector alongside established players like MG. Moreover, companies such as BYD, Chery, and SAIC have ambitious volume and growth aspirations. In 2022, China shipped around two million vehicles overseas, double that of 2020. By 2025, the latest reports suggest that China's exports will hit five million, equivalent to Japan's total annual market. Furthermore, BYD's announcement to ramp up its vehicle production from 190,000 in 2020 to 3.6 million by the end of 2023 highlights the sheer scale of Chinese OEM entrants.
Returning market dynamics
With productivity levels exceeding expectations in the first quarter of 2023, we have already observed increased registration volumes in the UK and European markets. Supply will only improve from now on, especially with the volume aspirations to the UK and European markets from China. But the consequences of those aspirations are yet to be felt; this year's result has been driven by manufacturers' return to sales channels such as rental and lease, increased tactical registrations, and an oversupply of cars overtaking retail demand.
These dynamics are very similar to what we had pre-2020, and considering the increased supply, we anticipate a return to a 'push' new car marketplace. With that in mind, it is essential for manufacturers to be aware of the changing market dynamics and adapt accordingly to remain competitive in the industry.
As incumbent OEMs review their commercial versus volume strategies and consider transitioning towards agency models, this shift could impact the 2023 and 2024 registration performance. However, with new entrants from China entering the UK and European markets, we could see a big shakeup in the new vehicle parc. We anticipate that this uncertainty could result in an even bigger boost in production and potentially an oversupply of vehicles above current levels of consumer demand.
Building on recent new car figures, the market factors described in this article, and in line with previous Cox Automotive forecasts, we have adjusted our new car registration forecasts. Our forecasts are broken up into three scenarios – upside, baseline, and downside – each with its justification below. The baseline is, we believe, the most likely scenario to materialise.
New car registrations forecast - Q2 and Q3 focus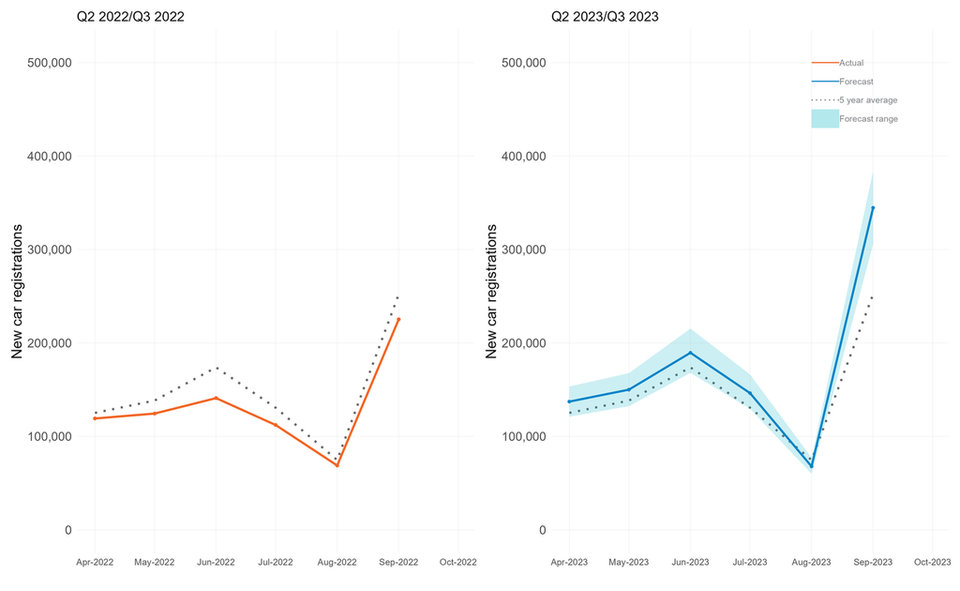 New car registrations forecast - 2023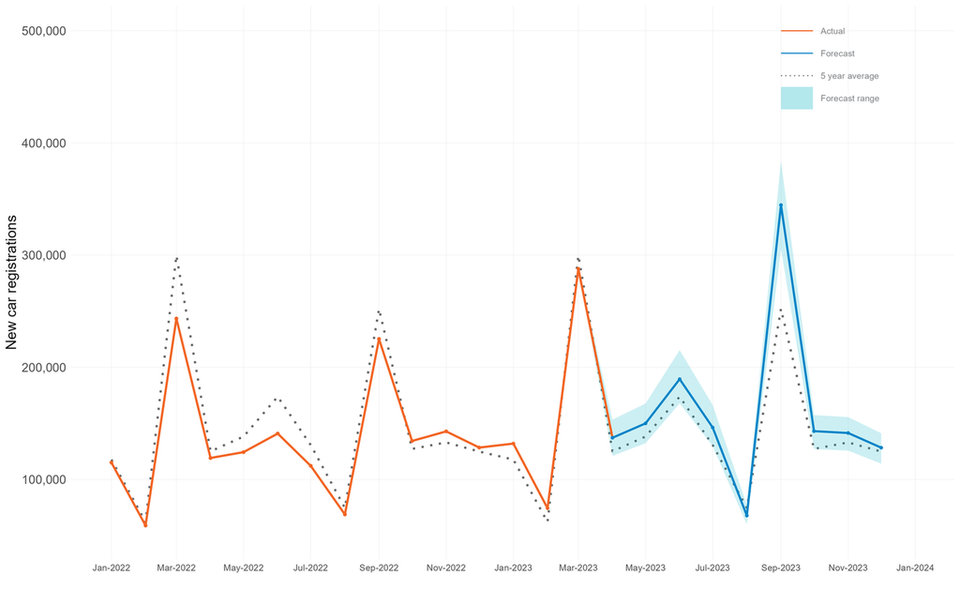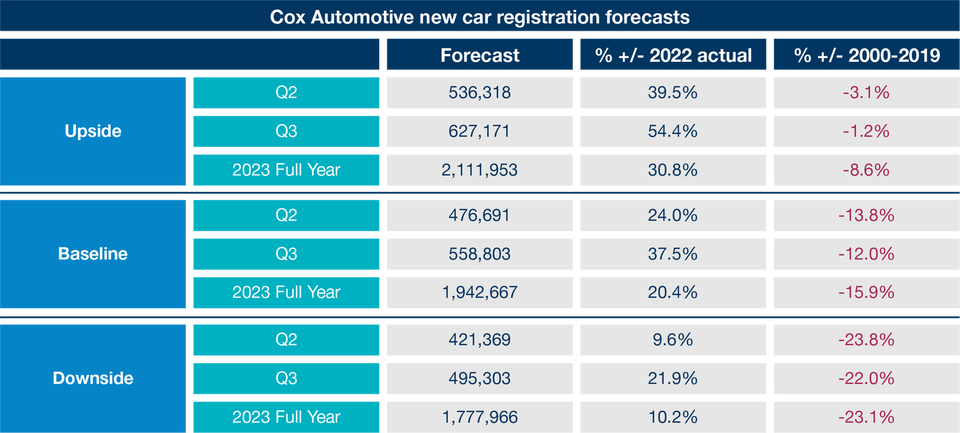 Upside scenario
The recent governmental and Bank of England initiatives have an immediate influence on reducing inflation, stabilising the economy, and ending the cost-of-living crisis.

The return to a more normalised push market, with immediate activity through sales channels previously closed off during the production shortages and increased tactical registration activities.

The new entrants to the UK market have an immediate appetite to purchase in both the consumer and business sectors, filling the shortfall from the OEMs who still need to work on production challenges or remain as a reduced volume higher manufacturer.

Based on an increased annual global production of 87.5 million, the upside scenario would represent a 2.41% UK share.
Baseline scenario
The market remains in a steady recovery, with new vehicle production not significantly overtaking demand.

The economic recovery projections, weighted more towards Q4 2023 and Q4 2024, remain accurate.

Projected volumes and market share aspirations by the new OEMs entering the UK market have minimal disruption on pricing and volumes to the incumbent OEMs, with a slower-than-hoped consumer and business adoption.

Based on an increased annual global production of 87.5 million, the baseline scenario would represent a 2.22% UK share, in line with the 2018-2022 mean average.
Downside scenario
The global economy, energy crisis and cost of living crisis remain challenging for longer than predicted and passes the end of 2023.

Agency model and electrification transition slow down the recovery of the new vehicle sector whilst both inflation and interest rate rise continue to cause disruption to the cost of change for new vehicle buyers.

OEM production faces continued challenges in supply materials or distribution headwinds alongside a flat consumer and business confidence market.

Based on an increased annual global production of 87.5 million, the downside scenario would represent a 2.03% UK share, indicating the UK's share would remain below 2020/1 production share performance.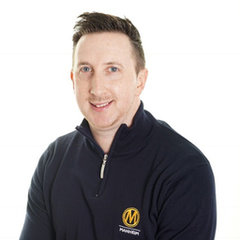 Matthew Davock, Director of Commercial Vehicles, Manheim Auction Services
"A solid start to the quarter for new LCV registrations as some positivity emerges for the UK market. The new light commercial vehicle (LCV) market grew for a third consecutive month in March, rising by +17.3% to 47,634 units being registered, according to the latest figures published by the Society of Motor Manufacturers and Traders (SMMT). Traditionally a large volume month due to the new number plate, the growth was amplified by comparison with a much weaker March last year, when chronic supply chain shortages drove the market down by -27.6%. Overall demand was up across many segments, apart from vans weighing up to and including 2.0 tonnes, down -24.6%, reflecting broader trends favouring LWB units. The second most popular weight class, vans weighing more than 2.0 to 2.5 tonnes, rose by +66.3%. Registrations of vans weighing greater than 2.5 to 3.5 tonnes increased marginally by +4.9%, as market share declined to 64.3%. Double-digit growth continued in the smaller volume pickup and 4x4 utility segments but rose by +29.3% and some +183.4%, respectively.
"87,272 light commercial vehicles were registered in the first quarter of 2023, up 17.4% against Q1 last year. However, despite the rise of positivity, the quarter remains -15.1% off pre-pandemic 2019 averages, with further challenges predicted in H2 as many of the leading volume manufacturers are changing model lines that will disrupt the new vehicle journey and, on this basis, we feel the new vehicle van parc will come c290,000 registrations by year-end."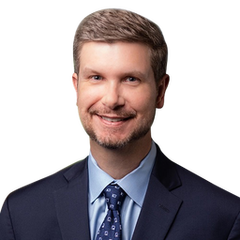 Jonathan Smoke, Chief Economist, Cox Automotive Inc.
"The new vehicle market started 2023 with improving sales, which was supported by growth in fleet sales. Inventory levels also modestly improved, reaching 1.89 million units by the end of the first quarter, the highest inventory level since April 2021. The first quarter began with the highest sales pace since May 2021, with 16.0 million SAAR in January. The pace slowed modestly as winter transitioned into spring, with a 14.8 million SAAR in March. Sales into fleet saw the most robust sales pace since the first quarter of 2021, with sales growing 33% year over year. Retail sales in the quarter rose a more modest 4% year-on-year.
"The days' supply of vehicles ended the quarter at 56 days, representing a three-day tightening from the end of 2022. The quarter saw weakening pricing power. The average transaction price of a new vehicle declined every month in the quarter as the mix shifted to include more lower-priced vehicles. By March, the average transaction price fell below the average MSRP for the first time in 21 months. The average MSRP declined 0.6% in March from February but was up 6.4% year over year. The average transaction price was up 3.8% year over year in March, the lowest annual change in 23 months. The average incentive spends from manufacturers increased by 2.7% in March from February and was up 3.3% year over year. Incentives as a percentage of average transaction price increased to 3.2%, the highest level in a year. The first quarter saw increasing retail demand headwinds as the average new vehicle loan rate increased 89 BPs to 8.91% in March, which was up 325 BPs year over year. Banking failures influenced the observed widening of yield spreads in March. Still, new vehicle loans saw the least amount of yield spread expansion as manufacturers appeared to invest more with captive lenders and strategic banking partners to keep rates attractive. With the better-than-expected start to 2023, we have upgraded our new vehicle forecast for 2023 to 14.6 million units."