Optimism as new car production improves
In this section, we discuss the primary factors driving the current new car market and share our latest new car forecasts.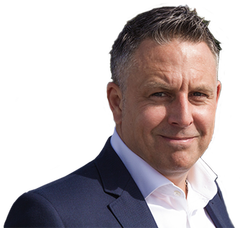 Philip Nothard, Insight and Strategy Director
2022 proved to be another challenging year for the automotive sector, but we start the new year with a much needed, albeit modest, feeling of positivity.

While global new car production problems remain, and registrations for the year finished significantly short of pre-pandemic levels, there were signs in the year's closing months that manufacturers have managed to increase supply levels.

More new cars rolling off manufacturer production lines can only be a good thing and is needed to reduce volatility in the market, but that it's finally happening just as the cost-of-living crisis takes hold is less than ideal. While inflation levels are predicted to improve this year, they will likely remain above the Bank of England 2% target until 2025, meaning a prolonged period of reduced consumer appetite.

Still, reports point towards tactical registration activity happening at dealerships, and conversations between manufacturers and rental companies are open again, both signs of a 'normal' new car market.

But we still have some way to go until production volumes are what could be considered normal. The latest Global Light Vehicle Production Summary from S&P Global indicates that it will be 2025 before global production will return to more than 90 million. For Europe, it'll be at least 2028 before we will exceed 18 million again. We mustn't forget that approximately 46 million fewer new cars have been produced globally in the last three years, resulting in a loss of more than 10 million registrations across the big five European markets. The UK alone has lost 2.6 million registrations. These are vehicles the used market will never see, whatever progress manufacturers make in increasing volumes.
OEM production priorities
The standout performer in terms of registrations in 2022 was clearly the electric vehicle sector, with more than one-fifth of all registrations in the UK being plug-in vehicles. This performance demonstrates manufacturers' continual investment and determination to prioritise low and zero-emission vehicles following governments' legislation, as well as the public's shifting attitudes towards cleaner motoring.

But as we edge closer to the Zero Emission Vehicle Mandate regulation, it's clear more needs to be done for EVs to truly become the dominant mode of transport. Significant investment is still needed in the charging infrastructure to support a growing EV parc. In addition, the comparably high cost of EVs remains a barrier to entry for many people.

A side effect of the transition to hybrid and EV is that manufacturers are increasingly culling the number of models and derivatives, reducing customer choice further still.

A key factor in the recovery of production and supply levels is the securement of materials, more specifically, the raw materials required for battery electric vehicle production. The last three years have clearly demonstrated the impact of broken supply chains and the manufacturer's heavy reliance on a just-in-time process. In addition, a cloud remains over the war in Ukraine, and there are growing tensions between China and Taiwan, one of the world's largest semi-conductor suppliers.
Regardless, manufacturers continue to build their strategies for the future. Stellantis' deal with Elements 25 Limited to secure the supply of magnesium sulphate for their electric vehicle batteries is just one example of manufacturers' direction of travel.
Agency models – a difference in opinion
The agency model continues to accelerate in the UK. Still, there remains a divide between those OEMs who are convinced that early adoption is the correct strategy (for example, Mercedes-Benz, Stellantis and Cupra) while others hold back to observe how it performs. One area of caution around the agency model is the pressure it creates on cash generation, working capital and exposure to market volatility. Agency shifts the risk from the retailer to the manufacturer and not everyone's ready for this change.

Renault Group CEO Luca de Meo, has been quoted as saying: "Agency is particularly risky as volumes increase. A company selling about 100,000 cars a year typically holds 30,000 cars or a three-month supply. At an invoice price of 25,000 euros, that translates to 750 million euros of capital."
Lessons are also being learnt from markets outside of Europe. In Australia for example, many manufacturers that felt compelled to transition their dealer network to the agency model due to the supply disruptions caused during the pandemic. It remains unclear however what the impact has been on both volume and profitability.
Further changes in retail dynamics
As we commented on throughout 2022, we are now clearly seeing an appetite from Chinese brands to enter both the UK and European markets. In the past, consumers have been open-minded about adopting new operators as they've entered the market, so there's no reason to believe the same won't be true of Chinese car brands. The timing couldn't be better for them as established OEMs step away from affordable but ultimately unprofitable legacy models. Ford's decision to cease production of its long-term best-selling Fiesta model may be the highest profile casualty but it's just one example. This will leave a void to fill as people still need small, cheaper cars.

Then we have the impact of the cost-of-living crisis on vehicle financing. Interest rates have already risen to levels that take many previously affordable models out of reach for many consumers. If interest rates continue to rise, 2023 will be a critical year where we could start to see pressure on brand ownership.

With fewer new car incentives, higher list prices, reduced appetite for negotiation and increased appetite for profitability, many consumers may find it difficult to upgrade and maintain the same brand and vehicle type level they've been accustomed to. Therefore, we may see a reversal of those drivers who switched from volume mainstream to premium brands, forced back, or even switch to a used vehicle.
"As seen in the headlines, it was a challenging 2022 for new van registrations coming in at a -20.6% decline YoY with 282,139 units being registered; this marked the fewest LCV registrations since 2013. Overall, pick-ups and CDV showed the most significant yearly percentage declines, with 46% fewer units registered in these two segments alone. On the other hand, there were pockets of positivity evident in BEV registrations for LCVs, with a growth of +31.2% to 16,744 units being registered. However, this uptake from a penetration perspective is still significantly below the car dynamics, with 92% of the vans registered in 2022 being diesel.
"Moving forward in 2023, I expect overall LCV registrations to be healthier, especially in H1, as many manufacturers will push hard to fulfil orders placed well over a year ago. I predict H2 will have challenges, though, as several old models and new model LCV crossovers are planned, which is bound to disrupt supply. This will impact the reported 17% increase in new registrations predicted for the year, and I suspect the number will be closer to a 10% increase, with c.310,000 being registered in the UK by the close of 2023."
Matthew Davock, Director of Commercial Vehicles, Manheim Auction Services

Building on recent new car figures, the market factors described in this article, and in line with previous Cox Automotive forecasts, we have adjusted our new car registration forecasts. Our forecasts are broken up into three scenarios – upside, baseline, and downside – each with its justification below.
New car registrations forecast - Q1 and Q2 focus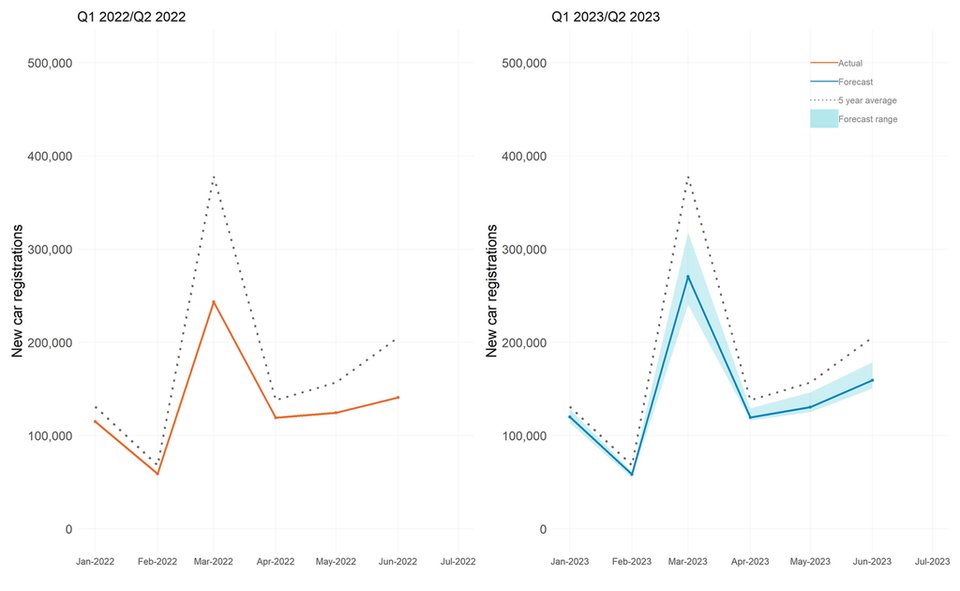 New car registrations forecast - 2023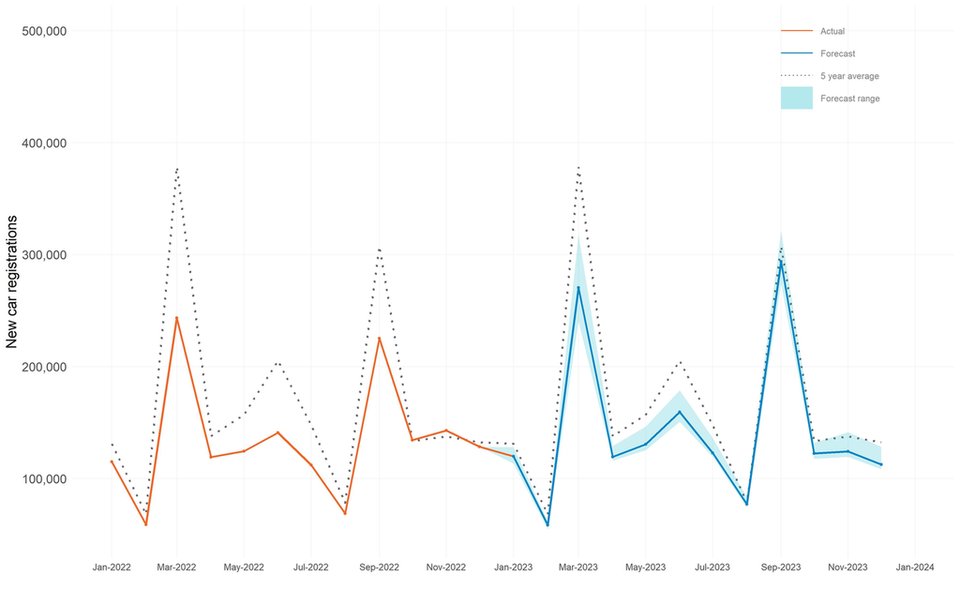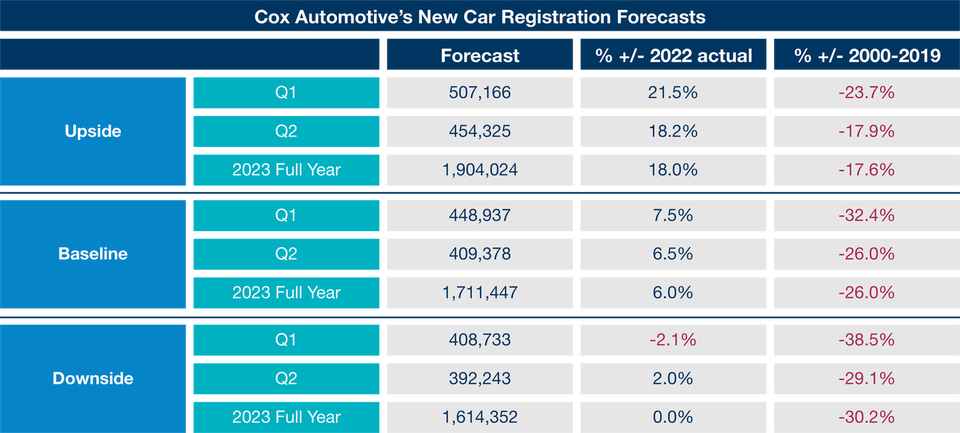 Upside scenario
New vehicle production globally recovers at a faster rate than many are predicting and closer to pre-pandemic levels.
Both consumer and business confidence recover in the first quarter of 2023, and lead times and order banks for new vehicles begin to fill up.
There is a resolution of the war in Ukraine and the European distribution network, and the risk of tariff implementation doesn't cause further disruption to new vehicle supplies.
Inflation and interest rate rises stabilise quicker than many are forecasting and begin to decrease in a reasonable time. As a result, the inevitable impact of interest rate rises on vehicle funding doesn't hit consumer spending.
Baseline scenario
The stabilisation observed in the second half of 2022 continues, and vehicle supply and production recovery continue at the current pace.
The current interest base rate continues at its forecast levels, changing ownership behaviours and choice of brands.
Recent activities observed in Q4 2022 continue where certain manufacturers returned to strategic and tactical registration activity. In addition, appetite within the leasing and contract hire sector returns, and incentives are implemented to support the purchase of new vehicles.
Downside scenario
The Ukraine war and post-Brexit complications begin to halter production and distribution recovery. In addition, particularly within the UK market, we are exposed to vehicle price increases due to the implementation of vehicle tariffs, notwithstanding the continual risk of conflict between China and Taiwan and the devastating impact that would have on the supply chain for the automotive sector.
The recent initiatives by the UK government to slow down inflation and the incentives placed to support the energy crisis don't provide an early boost to consumer and business confidence.
Interest rate rises, increasing cost of ownership because of the energy crisis, and continual inflation of new cars significantly detours new vehicle replacement.
"The new vehicle market ended 2022 with fading retail demand but improving supply. With improving production, inventory levels increased by almost 500,000 units or 37% in the fourth quarter, but sales only increased by 2%. The fourth quarter began with the highest sales pace of the year, with a 15.2 million SAAR in October but ended the year with just 13.2 million in December. Sales into fleet grew in the fourth quarter, with sales in December into large rental fleets nearly doubling the volumes of December 2021. The year saw 13.7 million light vehicles sold, the lowest volume in a decade. The days' supply of vehicles ended the year at 58 days, which was the highest level since the first quarter of 2021. With increasing supply and fading demand, pricing power is beginning to show signs of peaking. While the average transaction price of a new vehicle in December exceeded the average MSRP for the eighteenth month in a row, the gap between the price paid and MSRP is closing, as the average MSRP increased 2.2% in December from November and was up 6.4% year over year. The average incentive spend from manufacturers jumped 23.9% to $1,319 in December, so incentives as a percentage of average transaction price increased to 2.7%, the highest level since April. The industry appears to be exchanging a supply problem with a demand problem. The economy is, at best, likely to see slow or very weak growth in 2023 as the Federal Reserve tightens monetary conditions further and consumers continue to wrestle with high-interest rates. With new-vehicle inventory levels improving as demand slows, we forecast 3% year-over-year new-vehicle sales growth in 2023, with the market hitting 14.1 million units."
Jonathan Smoke, Chief Economist, Cox Automotive Inc.