China's growing influence in Europe's automotive market
In this section, Grant Thornton discusses changing OEM dynamics and how this will impact the European market.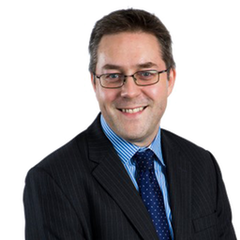 Owen Edwards, Head of Downstream Automotive
at Grant Thornton UK LLP
Again, Chinese manufacturers are at the forefront of the BEV market and they performed strongly in their own domestic market; the Chinese new electric vehicle market increased by 110% versus the broader passenger car market, which increased by just 14% (Source China Association of Automotive Manufacturers).
BYD was the strongest-performing Chinese OEM, selling 1.62m BEV and hybrids, saw an increase of 132% YoY in 2022. Such strong sales in BEVs have driven up BYD's market value, making it the world's third-largest automotive company by value after Tesla and Toyota. Tesla remains the most highly valued, although the company's share price dropped by c70% over 2022 from its all-time high of US$1.2 trillion.
In 2022, the automotive market again went through change, with supply chain issues still impacting both the upstream and the downstream. BEVs remained a focal point for change; this is set to continue for some time to come, particularly in 2023.

Top 5 global automotive manufacturers by market cap value US$Bn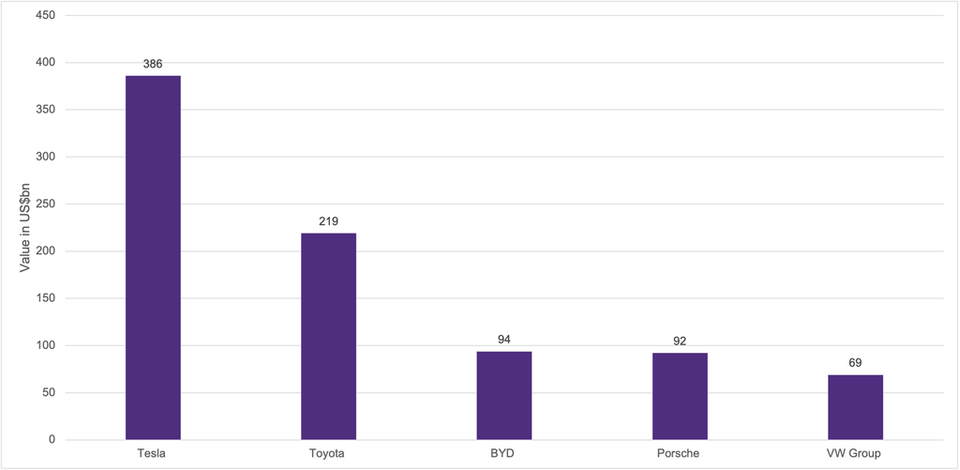 Source: Sino Auto Insights (3rd Jan 2023)
The Chinese brands have started a BEV pricing war in their home market, being more price competitive than the European and American incumbent OEMs (E&A OEMs) e.g. BMW, Stellantis, Mercedes Benz, Ford, Tesla etc. and the following table shows that the Chinese manufacturers continue to price aggressively in their own market.
Aggressive pricing by the Chinese OEMs in the China market

Source: BNP Paribas Exane Research
Although retail prices for Chinese brands are not significantly lower than the E&A OEMs, the Chinese brands are substantially better equipped with full infotainment and ADAS systems. In contrast, the E&A OEMs are falling short in providing this as standard equipment supplied on their vehicles.
Such an aggressive stance has made it difficult for some western incumbent OEMs to compete in 2022, both for BEVs and ICE vehicles, borne out by the GAC-Stellantis Jeep joint venture's decision to file for bankruptcy in October 2022. Stellantis CEO Tavares indicated that Peugeot and Citroen would exit manufacturing in the Chinese market.
During 2022, fewer than 2,000 Jeep vehicles (ICE vehicles) were sold in China, with only one Jeep sold in May 2022! This suggests that the Chinese brands are taking the pricing war not only to BEVs but also to ICE vehicles. With aggressive pricing for both BEVs and ICE vehicles in China, it is unclear whether there will be other OEM casualties. Nevertheless, we know that, with China's advanced battery technology, sourcing of raw materials and more advanced BEV supply chain, Chinese OEMs can manufacture BEVs at €10,000 cheaper than European automakers, representing a significant cost advantage.
BEV pricing competition is expected to continue to increase in China as the Chinese OEMs continue to establish a price level at which the price of a BEV is at parity with that of ICE vehicles. Increased emissions legislation will increase the supply of electric vehicles across the globe, ensuring that BEVs will have a higher global market share than ICEs in the medium term. Europe is expected to experience an influx of Chinese brands over the next 12-24 months as China's domestic sales of ICE vehicles and BEVs lose traction – although BEV growth is estimated to be double-digit. The Chinese BEV OEMs are pushing into Europe's premium and mass market with cut-price product offerings designed to gain market share quickly. This could trigger a BEV and ICE vehicle pricing war in Europe, pushing down BEV and ICE vehicle prices.
Chinese product in the mass hatchback segment BEV European market

Source: BNP Paribas Exane estimates
Increasingly competitive pricing by the Chinese OEMs creates a risk that the margins of European OEMs might come under pressure. However, it is unclear whether Europe will react to this influx of vehicles by imposing further tariffs on imported vehicles. Therefore, the Chinese OEMs will have to consider the long-term positioning of setting up factories in Europe. In addition, the US has recently passed the Inflation Rate Act, which restricts overseas OEMs from importing vehicles into the US. Although this provides an opportunity for the Chinese OEMs to expand into new markets, it may take time for the Chinese brands to gain a stronghold in Europe due to the lack of brand recognition, consumer acceptance, and the reduction in future BEV subsidies across Europe that will slow BEV growth in general.
At present, OEMs' profitability has remained robust in the face of supply chain disruptions as vehicle shortages meant that retail prices for vehicles have remained high, allowing OEMs' profit margins in 2021 and early 2022 to hold up well. However, the rise in raw material prices and further disruptions in the supply chain caused by gas shortages in Europe has meant that the profits of many OEMs have started to suffer. As a result, many of the OEMs have started to reduce their exposure to European gas: Renault cut its gas consumption by 10% in 2022; 20% of VW's gas intake has been reduced or replaced with coal or oil; and BMW cut its gas usage in Germany and Austria by 15% in 2022 (Source: JP Morgan). However, some automotive raw material prices have declined over the coming month, albeit from a high level in Q3-Q4 2021 and Q1 2022. Regardless, raw material prices are still not back to 2019 levels, and in some cases – such as polypropylene – have experienced limited declines, while prices for other raw materials, such as steel, are significantly lower.
In 2023, OEMs are likely to stabilise their earnings against a backdrop of lower costs for some raw materials and a less volatile supply and distribution chain. The following chart shows that production in US factories is increasing, and production utilisation is heading back to more normalised levels of 76%.
Capacity Utilisation: Automotive and Light Duty Motor Vehicles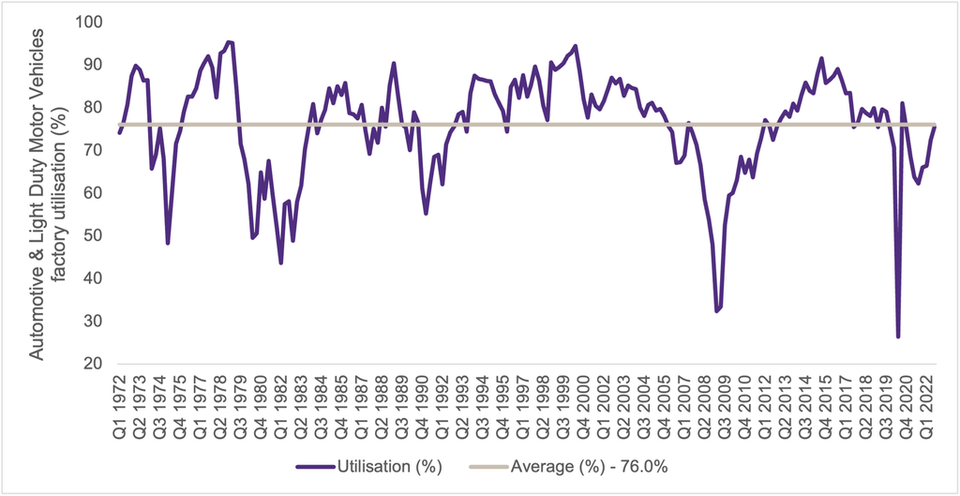 Source: Board of Governors of the Federal Reserve Systems (US)
Nevertheless, global economic conditions remain uncertain with potential macro headwinds in the second half of 2023, and the supply of and demand for vehicles could be affected by any trade disruption caused by intensifying protectionism and sanctions alongside any impact from new strains of COVID-19. BEVs will continue to experience robust growth driven by legislation; in the UK, the Department of Transport is consulting on its Zero Emissions Vehicle policy, which could mandate automotive manufacturers to register a certain amount of zero-emission cars and vans in the UK by 2024 in preparation for a 2030 ban on new pure petrol and diesel cars. More information on this mandate is expected in 2023, with potential implementation on 1st January 2024.