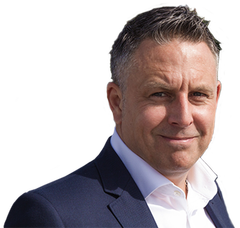 Philip Nothard, Insight and Strategy Director
People often ask when normal used car supply will return to the market. The simple answer is it likely never will. Globally, more than 46 million vehicles have been lost over the last three years due to new vehicle production and supply issues.
The situation will only compound while manufacturers try to ramp production back up to pre-pandemic levels – if indeed they ever do. The loss of these vehicles will influence and cause unprecedented changes to the used vehicle parc for many years.
Although there are signs of weakness with cautionary buying, increasing overage, and weakening consumer demand and confidence, we must remember the heights that used vehicle values achieved over previous years. While there are examples of significant adjustments to trade values, on the whole, they remain far ahead of pre-pandemic levels.


Consumers are choosing different vehicles
For a variety of reasons, more consumers than ever are choosing to switch to a used vehicle from new. Some will be motivated by cost, and others will be put off by long lead times or restricted choice. However, which used vehicle that will be in terms of affordability, driver requirements and zoning access needs are yet to be understood.
It stands to reason that the dominant influence today is the cost-of-living and energy crisis, and this will likely impact the EV market the most. Despite EVs now becoming a common sight on our roads - battery electric vehicle registrations in the UK grew by 40% in 2022, representing over 16% of all registrations – it remains the case that EVs are more expensive than their petrol or diesel counterparts and, for many potential buyers, there are genuine concerns about the true cost of running an EV now energy prices have risen.
Meanwhile, increased demand from both consumers and fleets, together with the need to progress towards long-term production targets, means most manufacturers have shifted their focus to EVs, so we're seeing fewer new ICE vehicles available to buy and therefore registered. As a result, there will be an inevitable impact on the used market in time.
There is, of course, now a greater proportion of EVs entering the used market, and we're starting to build a picture on appetite from dealers and consumers and residual values. What is already clear, however, is there's significant work needed from all operators within the sector, including governments, not just on infrastructure but to increase the levels of confidence, education, and appetite for ownership of pre-owned electric vehicles.
There is increasing caution around residual values of EVs, resulting in above-market depreciation movements on those models and derivatives either in significant oversupply compared to market demand or not on a buyer shopping list. As a result, dealers are wary of the risk of stocking vehicles that may take a while to sell.
As some leasing companies review strategies for their EV fleets, others may choose to delay that transition due to uncertainty. But, as we have observed over the decades with combustion engines, given time, the supply, demand, and residual value uncertainties will settle and find their place in the market.
To conclude, it is clear the price acceleration and heights experienced throughout 2021 and early 2022 have begun to ease, and in some cases, show significant signs of depreciation.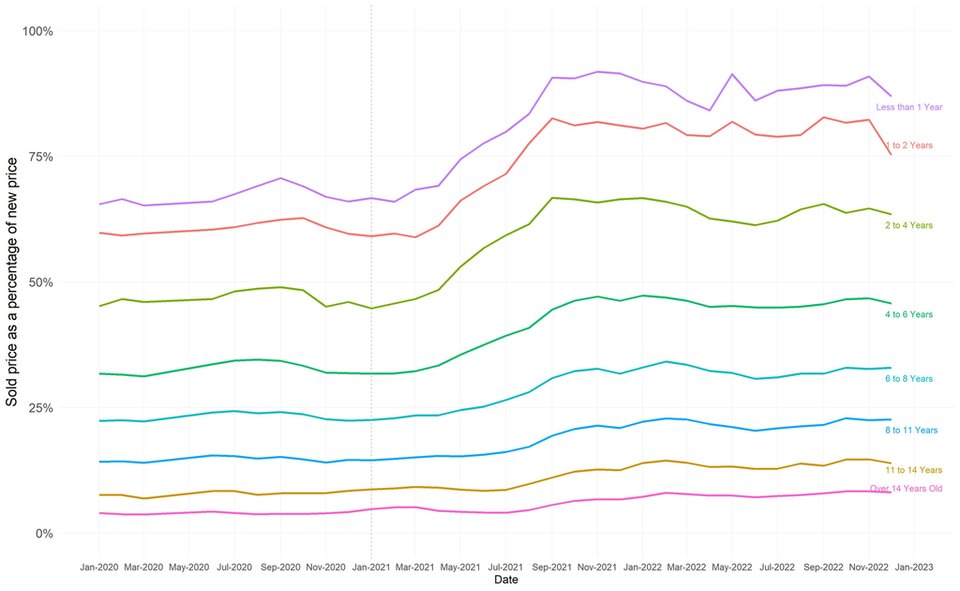 2022 closed with a -9.4% movement in values at 3yr/60k, and 2023 begins with a further -1.5% downward movement at 3yr/60k, marginally ahead of the seasonal average of -0.9% and the 5-year average of -1.2%. Although December could be described as a typical seasonal finish, the general feedback from across the sector is mixed, and it felt more challenging than November.

However, the focus is clearly on Q1 and what's in store regarding optimism and the subdued economic outlook. With consumer confidence and demand under pressure, there are signs of weakness in margins appearing as overage product starts to appear. But overall, retail prices are holding as supply volumes remain constrained. In addition, there are signs that new vehicle supplies are increasing, albeit coming at a time when order banks and demand are easing, which is resulting in tactical registration activities and discounts appearing.
"The LCV market found good health and stability during 2022, particularly in the H2 period, which went from strength to strength, bouncing back from a challenging first six months featuring buyer caution and retail softening. However, strength in first-time conversion rates returned, with eight out of ten vans selling first time in H2 2022. As we look forward to 2023, I expect arrivals and defleets to be much more buoyant, especially in H1, with many fleets, rental and leasing companies reviewing fleet utilisation and more new vans predicted to be registered. This combination should see more vans being available in the wholesale van sector. But, based on pandemic impacts on van usage and strain, many vans feature much more wear and tear than usual, plus these are units that should have been defleeted over 18 months ago. A large proportion of these are in continuous extensions and missing important maintenance schedules and rising return mileage. Based on this, we predict as much as 72% of stock being entered through our auction network could be more than 100,000 miles, giving buyers across the country used mileage stock dynamics they have never seen or witnessed before."
Matthew Davock, Director of Commercial Vehicles,
Manheim Auction Services
Building on recent used car figures, the market factors described in this article, and in line with previous Cox Automotive forecasts, we have adjusted our used car registration forecasts. Our forecasts are broken up into three scenarios – upside, baseline, and downside – each with its justification below.
Used car transactions forecast - Q1 and Q2 focus
Used car transactions forecast - 2023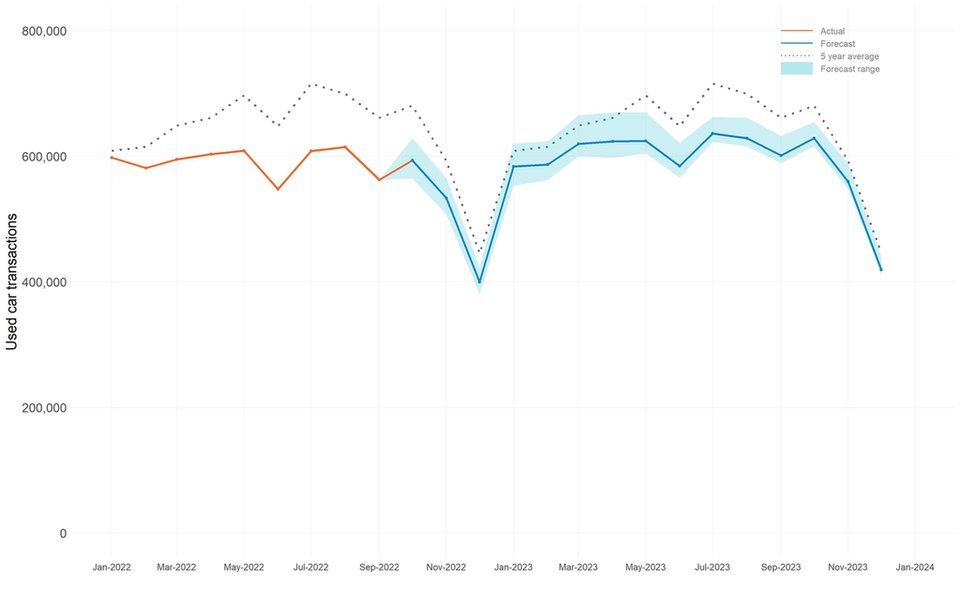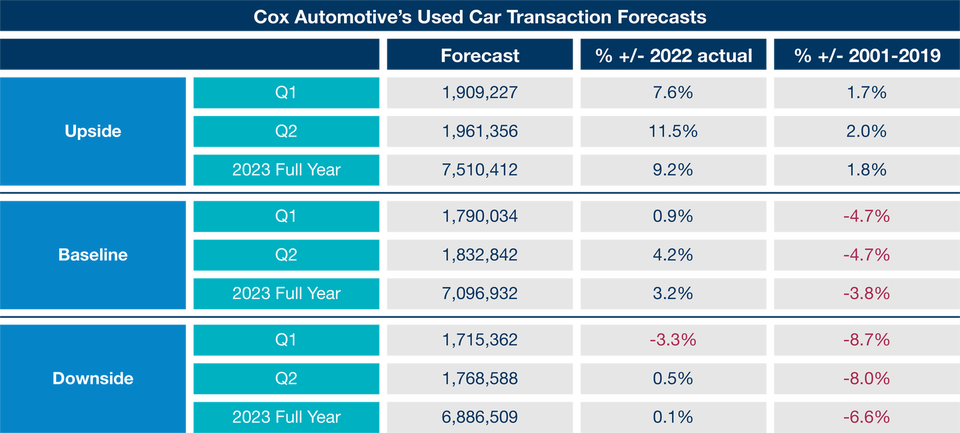 Upside scenario
Used vehicle supply improves following increased new vehicle activity as a result of production recovery and an appetite by manufacturers to re-enter the lease, contract hire and rental sale channels.
Increased change of ownership activity from more consumers and rental operators shifting from new vehicles to used vehicles.
The actions taken to slow inflation and stabilise interest rates, along with initiatives to tackle both the cost-of-living and energy crisis, take effect in the early stages of 2023 and stimulate business and consumer confidence.
Baseline scenario
The market continues to see a slow but steady recovery without worsening the current cost-of-living and energy crisis. As we observed in the final quarter of 2022, the result of steady but increased defleet activity as new vehicle supply increases.
We see a slow and steady return to used vehicle depreciation whilst maintaining healthy retail prices and margin retention off the back of improving supply.
Although buyer behaviours may be forced to change in terms of the brand, age and price of the vehicle of choice, we will still see a healthy number of transactions occurring.
Downside scenario
The UK government's initiatives to tackle inflation and interest rate rises don't have the desired impact on UK consumer and business spending, whilst we experience further pressure on the cost of living and energy crisis.
Production recovery and registration activity do not accelerate to the levels expected. Therefore, we do not see improving defleet activity within the used vehicle sector.
If the cost to change becomes out of reach for many buyers, we could see an increased appetite and need for consumers to refinance their current vehicle rather than settling the balloon or final payment at the end.
"The used market saw fading momentum at the end of the year but avoided a collapse. The used market faces two challenges limiting demand. First, payment affordability and tighter credit conditions have reduced demand since rates began climbing in the spring and ended the year with rates up more than three full percentage points. As new vehicle supply improves, the demand for used is shrinking as some buyers opt to buy new instead. Dealers have been adjusting inventory levels to align with weaker demand, so the year ended with a normal level of days' supply. Even so, price declines in the fourth quarter were higher than normal for the time of year. Eventually, lower prices will help create more buying opportunities, but increasing interest rates more than offset the price decline impact on monthly payments. The used market faces a challenging year in 2023 as demand weakens and the supply of nearly new vehicles is very limited. Total used transactions and retail sales will likely be down another 1 %, which is far better than 2022's 10% decline but another leg down. CPO will fall the most – to only 2.2 million units, as the drop in off-lease volume hurts the potential for market volumes. After historic used vehicle value increases in 2020 and 2021, followed by above-average depreciation for most of 2022, used-vehicle values are likely to see another year of above-normal depreciation, especially in the first half of 2023. Price trends should normalise in the year's second half as constrained wholesale supply supports used values and used retail prices fall into a normal relationship with new prices."
Jonathan Smoke, Chief Economist, Cox Automotive Inc.