Can aftersales remain the cornerstone of dealer viability?
In this section, ICDP dives into the biggest trends changing the face of automotive retail.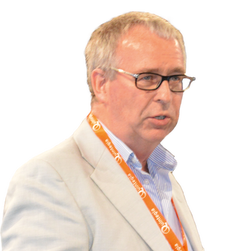 Steve Young
Managing Director of ICDP
For many years the aftersales department has provided the major part of dealer profits in many markets. The traditional target used to be that the full overhead of the dealership would be covered by aftersales, typically referred to as 100% overhead absorption or fixed cost coverage. However, at a time when margins on new cars are under pressure through electrification and moves by some manufacturers towards agency agreements rather than franchise, many dealers are focusing on aftersales as the way in which they can maintain their overall profitability.
Whilst we would totally agree that this is a sensible route to follow, there are other pressures which mean that the outcome is far from assured in the long term.

The total aftermarket has been in decline in real terms for at least a decade, influenced by reducing distance driven, greater car reliability, longer service intervals, reduced service content and lower collision rates due to more sophisticated safety systems. Value has been less affected because of higher parts prices and labour rate inflation. Still, in combination with higher dealership fixed costs, typical overhead absorption rates have dropped down to the 50 to 60% level in major markets. This decline has now been accelerated by electrification, where not only are many service operations no longer required, but the real profit generator – the oil change – has gone completely. Tyres are the only repair type that grows due to higher wear rates on BEVs.
"The total aftermarket has been in decline in real terms for at least a decade, influenced by reducing distance driven, greater car reliability, longer service intervals, reduced service content and lower collision rates due to more sophisticated safety systems."
Steve Young, Managing Director of ICDP
Repair and Maintenance faces structural decline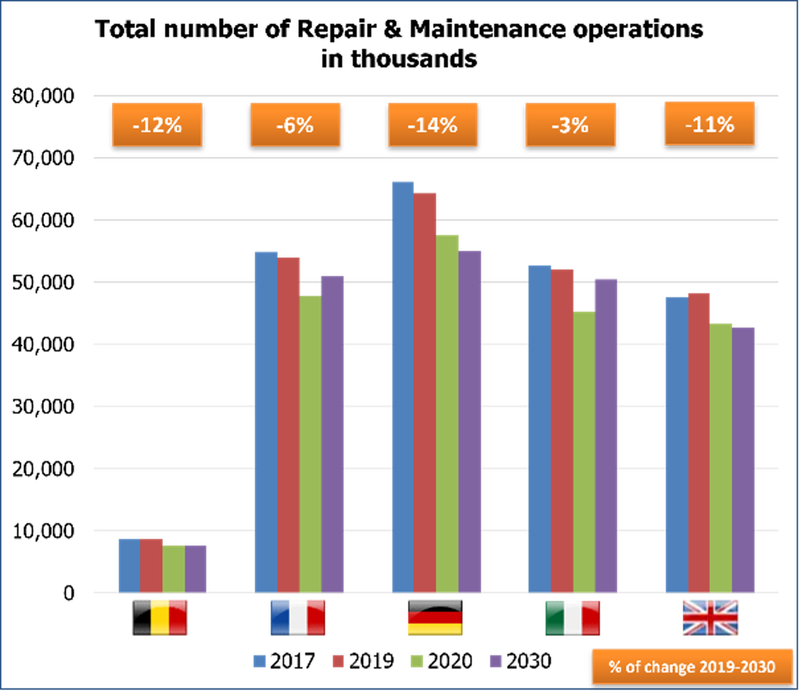 Crash repair volume decline is greater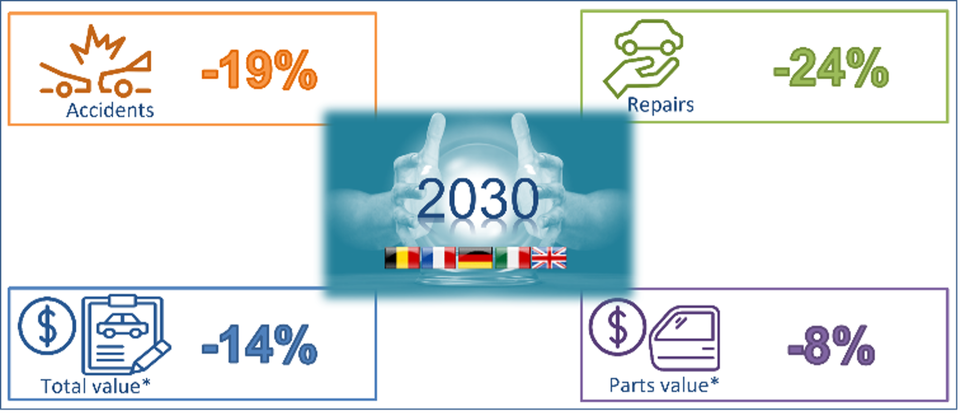 At the moment, the impact is generally modest because other than in markets like Norway, BEV penetration is still relatively low, and franchised dealers are still working mainly on ICE or hybrid products. Independent repairers are further protected by the fact that they tend to work on older cars, and so the BEV mix within their workshops is even lower. However, as the mix within the parc increases, the reduced workload and profit from repair and maintenance will greatly impact dealers' profitability. In our modelling, unless there were corrective actions such as higher labour rates, then the dealer as a whole would not be viable at a 100% BEV mix.
Most manufacturers have a strategic objective to be closer to their customers, meaning the end users of the cars, and the trend towards agency is one part of that overall strategy. More broadly, they want to retain the customer for repeat sales and aftersales through leasing or subscription and some form of bundled or inclusive service. This is likely to extend into bundled insurance, as in the case of Stellantis, where this forms a specific part of their digital services strategy. For both service and crash repair, the intention is that the customer will return to the authorised repair network in order to have work performed.Still, the bill payer will be the manufacturer or their captive finance organisation rather than the driver of the car. As a result, an increasing part of the workshop and bodyshop load is effectively going to be fleet business with reduced margins on labour and parts. Whilst retention may be higher and extend longer if OEMs become more involved in used cars, the higher retention may not compensate for the reduced margins.
Digital services will also include an increasing level of repair and maintenance work which is carried out through over-the-air updates. The scope for this increases as the implementation of electronic systems and electronic controls increases and mechanical content reduces. There are also technical changes in the calibration of ADAS systems. This means that the increased workload that bodyshops have seen in recent years to perform calibration will start to reduce as more of the ADAS systems become self-calibrating. The effects of these changes will be a combination of fewer workshop visits and lower work content when the visits are required for physical operations.
The great unknown is how customers may change their behaviour as a result of electrification and the other developments. In some cases, notably Tesla and Aiways, there are either no fixed service requirements, or the intervals are extended massively. It's possible that the consumer and trade press will feed a growing challenge as to whether even a two-year service requirement is valid for a BEV. The manufacturers will face a particular challenge in this respect. On the one hand, as significant fleet operators, they will want to reduce the total cost of ownership. Still, on the other hand, they currently need aftersales business to support the viability of their parts business and dealer networks. It will require a more fundamental reinvention of the manufacturer and dealer business model to sustain viability if regular workshop servicing was eliminated and repairs were both less frequent and, in some cases, could be carried out over the air with no physical parts involved.
The parc mix has a stabilising impact on aftersales, with change impacting on different players at different times related to their focus within the parc. For example, a dealer who is focused on the zero to three-year-old part of the parc and is tightly integrated with the leasing and service plan programmes of their manufacturer is going to be affected faster than one who has already taken steps to increase their share of the older parc and developed some areas of their business which are not so impacted by manufacturers' strategies and programmes. Both will, in turn, be significantly more affected than an independent repairer who is typically working mainly on cars that are no longer subject to new car warranty and are covered by independent service plans. Beyond 2035, the impact will be more broadly felt, and it will be impossible to look to aftersales to cross-subsidise other parts of a dealer business. Whilst that may not be the highest priority challenge in these current times, it will soon start to come within the planning horizon for new facilities and the skills development roadmap of new technicians, so cannot be completely ignored.