Building on recent used car figures, the market factors described in this article, and in line with previous Cox Automotive forecasts, we have adjusted our used car registration forecasts. Our forecasts are broken up into three scenarios – upside, baseline, and downside – each with its justification below. The baseline is, we believe, the most likely scenario to materialise.
Used car transactions forecast - Q3 and Q4 focus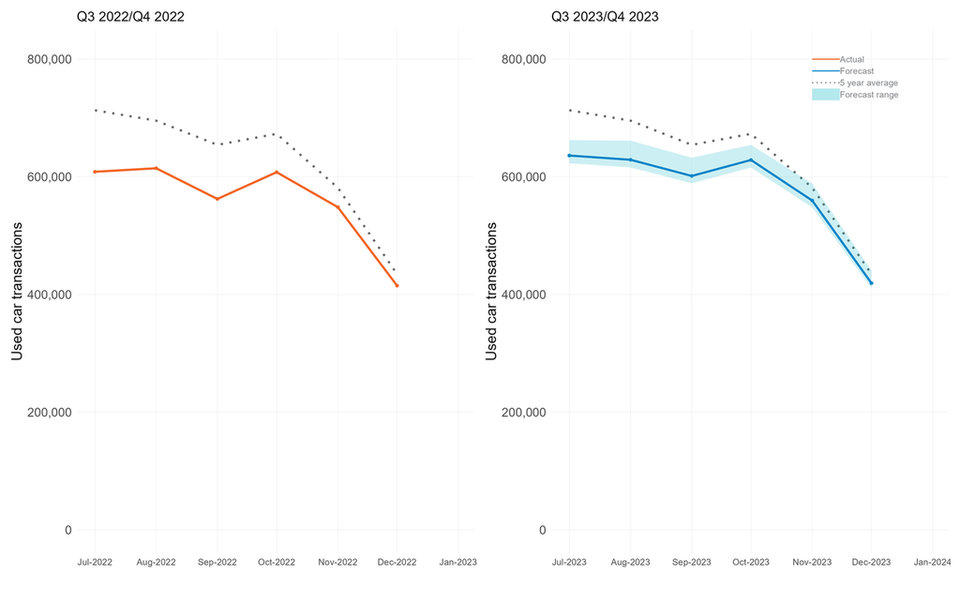 Used car transactions forecast - 2023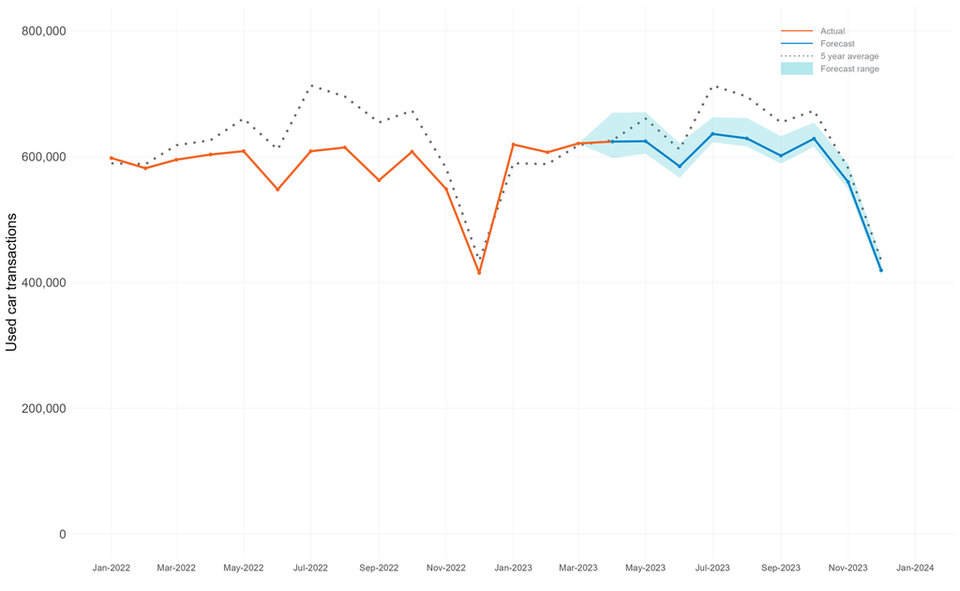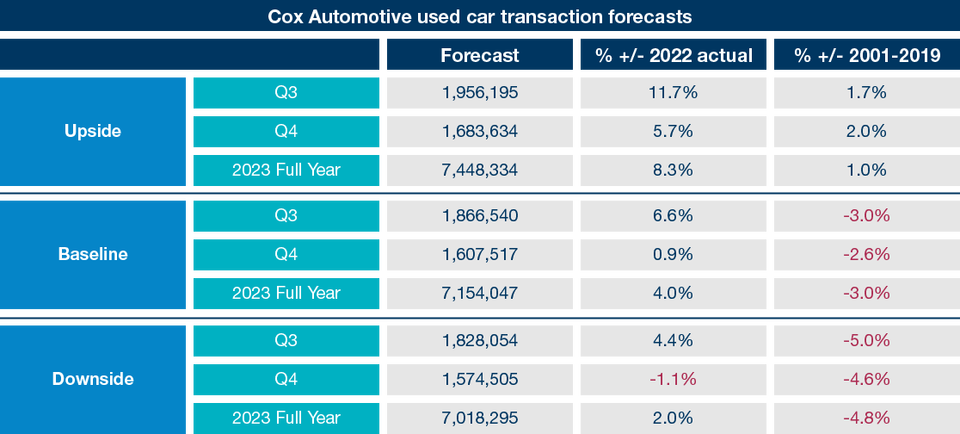 Upside scenario
The heightened productivity in the new vehicle market has an immediate and positive effect on the supply of used vehicles, resulting in a more abundant inventory for consumers and businesses. This, in turn, contributes to a recovery in consumer and business confidence.

The shift towards the agency model creates a favourable ecosystem for used vehicle retailers associated with relevant OEMs. The streamlined processes and improved collaboration within the agency model lead to enhanced efficiency and profitability in the used vehicle sector.


Similar to the new vehicle market, the recent measures implemented by the government and the Bank of England have an immediate impact on stabilising and reducing inflation and alleviating the cost-of-living burden. These initiatives foster an environment of economic stability and confidence, benefiting consumers and businesses alike.
Baseline scenario
The market sees a steady recovery in consumer and business confidence, but the pace of improvement is relatively slow, with minimal notable shifts in demand or market dynamics.

Economic challenges persist throughout the remainder of 2023 and a substantial recovery is not expected until early or mid-2024. Factors such as global economic conditions and energy-related issues continue to act as headwinds to overall growth.


Consolidation and acquisition activities positively impact the transactional used vehicle market, fostering a more streamlined and efficient marketplace. However, retail pricing remains unaffected by the rise in interest rates and household expenditure, maintaining consumer pricing stability.
Downside scenario
The prevailing economic challenges, including the escalating cost-of-living and energy crises, and broader economic headwinds intensify, creating a highly challenging business environment for the automotive industry. These factors negatively impact consumer spending and overall market conditions.


The market experiences a significant shift from used vehicles towards new ones, which becomes even more pronounced as the oversupply of new vehicles leads to intense competition and heavy discounting. This, in turn, further erodes the value of used cars, making it difficult for sellers to achieve satisfactory returns on their inventory.

Despite an increase in vehicle production and registration activity, the used vehicle wholesale sector remains stagnant due to the oversupply of older models and a lack of demand. This exacerbates the supply and demand imbalance, making it increasingly challenging for dealerships to sell existing stock causing a backlog in the market.
The New LCV market has continued to show green shoots of recovery, with 135,296 LCV units registered in the first five months of 2023, meaning a 14.7% increase on 2022 actuals. Each month of 2023 has demonstrated improvement on 2022 levels and is now only tracking -13% below pre-pandemic 2019 levels, which shows that van manufacturers and production continue to take positive steps.
Strong registrations were highlighted in the medium–sized LCV sector, showing a 57.2% v 2022 as more fleet and leasing operators choose the more agile medium-sized vehicle with balanced payload capabilities to drive improved fleet capabilities.
Continued (BEV) LCV growth was evident but it is still, very small overall percentages v diesel, representing 5.2% market share year-to-date. A total of 7023 YTD registrations shows a 15.5% improvement v 2022 averages, demonstrating that more volume is becoming available, with 25 electric van models now available to buy in the UK today.
To conclude, it's been a very positive H1 for new van registrations in the UK, but caution is the watchword as wider economic factors play out in the UK, with both vehicle cancellations and repossessions increasing.
The new vehicle market has continued to show strength in 2023, improving sales from recovering inventories as well as deliveries and by rebounding sales into fleets. The total inventory level slightly increased in the second quarter to more than 1.9 million units, the highest since April 2021. The second quarter began with the highest sales pace since May 2021, with 16.1 million Seasonally Adjusted Annualised Rage (SAAR) in April. The pace slowed to 15.0 million SAAR in May, leaving the year-to-date SAAR at 15.4 million. Sales into fleet continue to see the strongest sales gains, as the year to date, sales into fleet are up 39%.
Retail sales are also up year to date but only by 7%. With supply growing, the year has seen weakening pricing power. In May, the average transaction price grew 0.5%, which was the first month-over-month increase so far this year, up 3.0% year-over-year. The average Manufacturer's Suggested Retail Price (MSRP) continues to grow at a faster pace and is up 5.2% year-over-year. The gap between the MSRP and the average price paid increased to the widest level at 0.8% in May, representing the largest discount since May 2021. Incentive spending has grown each month in 2023, and the average incentive spend increased 13.6% in May from April and was up 64% year-over-year. Incentives as a percentage of average transaction price increased to 3.9%, the highest level since November 2021. Affordability has improved so far in 2023 as income gains, slightly lower prices and increasing incentives have more than offset smaller increases in interest rates. The average new vehicle loan rate increased 5 BPs to 8.92% in May, which was up 90 BPs year-to-date. With the better-than-expected start to 2023, we have upgraded our new vehicle forecast of 2023 to 15.0 million units, but we expect a weaker second half compared to the first.