Building on recent new car figures, the market factors described in this article, and in line with previous Cox Automotive forecasts, we have adjusted our new car registration forecasts. Our forecasts are broken up into three scenarios – upside, baseline, and downside – each with its justification below. The baseline is, we believe, the most likely scenario to materialise.
New car registrations forecast - Q3 and Q4 focus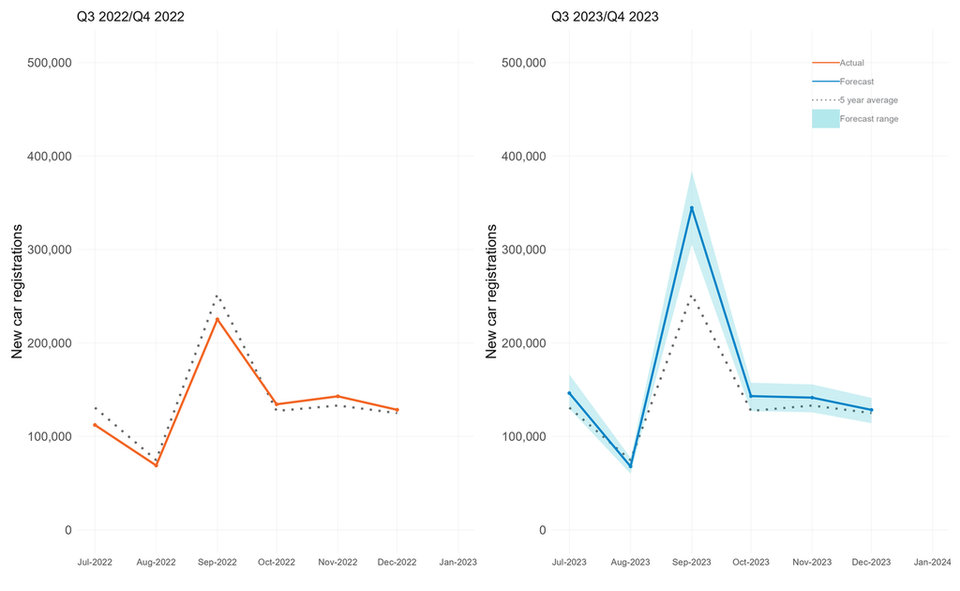 New car registrations forecast - 2023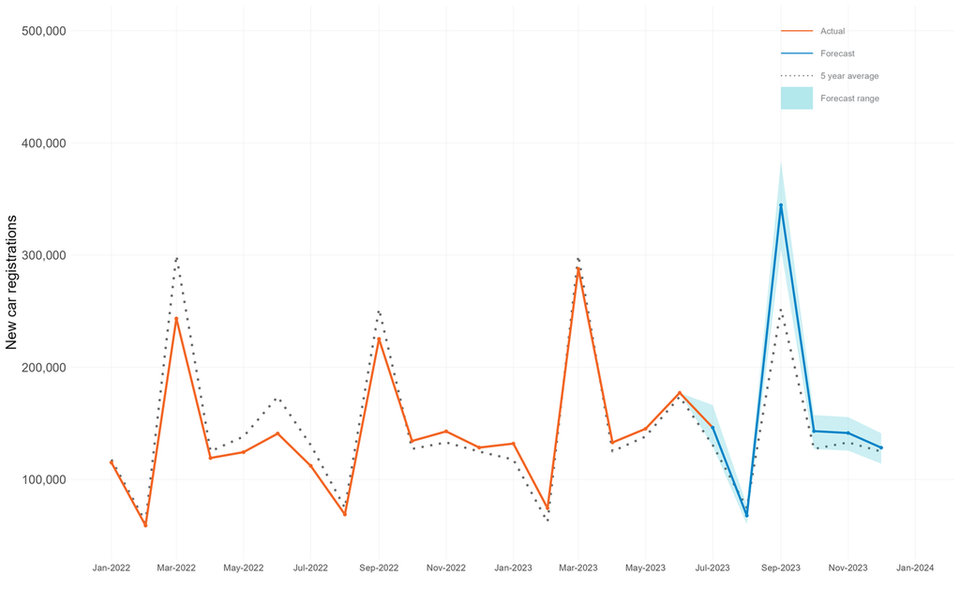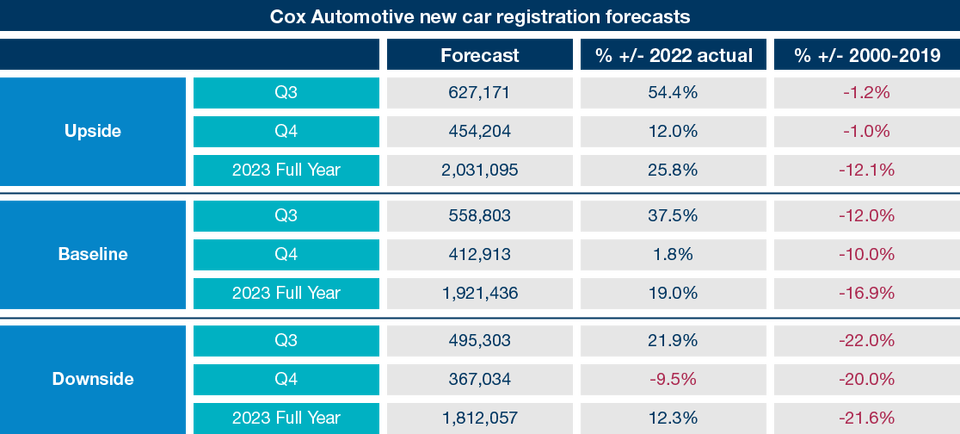 Upside scenario
Recent governmental and Bank of England initiatives have an immediate and positive influence on reducing inflation, stabilising the economy and effectively resolving the cost-of-living crisis.  

The market experiences a return to a more normalised 'push' approach, resulting in increased activity across sales channels that were previously limited due to production shortages and heightened tactical registration activities.  

The entry of new players into the UK market sparks a significant demand for vehicle purchases in both the consumer and business sectors, effectively filling the gap left by OEMs grappling with production challenges or operating at reduced volumes.  

With an annual global production increase to 87.5 million vehicles, the upside scenario projects a 2.41% share for the UK. 
Baseline scenario
The market continues its steady recovery, with new vehicle production aligning closely with demand which prevents significant imbalances.  

The projected economic recovery remains on track, with expectations weighted towards the fourth quarters of 2023 and 2024 as accurate indicators.  

The entry of new OEMs into the UK market has a limited impact on pricing and volumes for incumbent OEMs, resulting in a slower-than-desired adoption rate by consumers and businesses.  

Considering an increased annual global production of 87.5 million vehicles, the baseline scenario predicts a 2.22% market share for the UK, in line with the mean average observed from 2018 to 2022. 
Downside scenario
The global economy, energy crisis and cost-of-living crisis persist beyond the projected timeline, extending into 2024 and beyond. 

Adopting the agency model and electrification transition in the new vehicle sector slows the recovery, exacerbated by ongoing inflation and rising interest rates, which hinder affordability for potential buyers.  

OEM production continues to face challenges in sourcing materials and overcoming distribution obstacles, further compounded by a stagnant consumer and business confidence market.  

Considering an increased annual global production of 87.5 million vehicles, the downside scenario suggests a 2.03% market share for the UK, indicating that the UK's share would remain below the performance observed in 2020/2021 regarding production share. 
The New LCV market has continued to show green shoots of recovery, with 135,296 LCV units registered in the first five months of 2023, meaning a 14.7% increase on 2022 actuals. Each month of 2023 has demonstrated improvement on 2022 levels and is now only tracking -13% below pre-pandemic 2019 levels, which shows that van manufacturers and production continue to take positive steps.
Strong registrations were highlighted in the medium–sized LCV sector, showing a 57.2% v 2022 as more fleet and leasing operators choose the more agile medium-sized vehicle with balanced payload capabilities to drive improved fleet capabilities.
Continued (BEV) LCV growth was evident but it is still, very small overall percentages v diesel, representing 5.2% market share year-to-date. A total of 7023 YTD registrations shows a 15.5% improvement v 2022 averages, demonstrating that more volume is becoming available, with 25 electric van models now available to buy in the UK today.
To conclude, it's been a very positive H1 for new van registrations in the UK, but caution is the watchword as wider economic factors play out in the UK, with both vehicle cancellations and repossessions increasing.
The new vehicle market has continued to show strength in 2023, improving sales from recovering inventories as well as deliveries and by rebounding sales into fleets. The total inventory level slightly increased in the second quarter to more than 1.9 million units, the highest since April 2021. The second quarter began with the highest sales pace since May 2021, with 16.1 million Seasonally Adjusted Annualised Rage (SAAR) in April. The pace slowed to 15.0 million SAAR in May, leaving the year-to-date SAAR at 15.4 million. Sales into fleet continue to see the strongest sales gains, as the year to date, sales into fleet are up 39%.
Retail sales are also up year to date but only by 7%. With supply growing, the year has seen weakening pricing power. In May, the average transaction price grew 0.5%, which was the first month-over-month increase so far this year, up 3.0% year-over-year. The average Manufacturer's Suggested Retail Price (MSRP) continues to grow at a faster pace and is up 5.2% year-over-year. The gap between the MSRP and the average price paid increased to the widest level at 0.8% in May, representing the largest discount since May 2021. Incentive spending has grown each month in 2023, and the average incentive spend increased 13.6% in May from April and was up 64% year-over-year. Incentives as a percentage of average transaction price increased to 3.9%, the highest level since November 2021. Affordability has improved so far in 2023 as income gains, slightly lower prices and increasing incentives have more than offset smaller increases in interest rates. The average new vehicle loan rate increased 5 BPs to 8.92% in May, which was up 90 BPs year-to-date. With the better-than-expected start to 2023, we have upgraded our new vehicle forecast of 2023 to 15.0 million units, but we expect a weaker second half compared to the first.