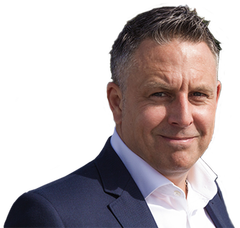 Philip Nothard, Insight and Strategy Director
Three years of disruption have characterised almost every nook and cranny of the automotive industry. Bumps in the road have included production shortages, European conflict, shifting OEM strategies towards the agency model and electrification, among other things. These factors will have long-term implications for the used market, too, not least concerns about the future of vehicle values for franchised and independent dealers, as well as for car supermarkets and the remarketing sector. 
The answer to the question of what effect the disruption will be on used vehicle values is, arguably, simpler than it seems: the industry will undergo significant changes, and the way businesses operate will need to adapt to a new landscape. As previously discussed, the global loss of 42 million vehicles in production has permanently impacted the future composition of the used market. Additionally, the growing dominance of alternative fuels and battery electric as manufacturers' preferred strategic choices will further reshape fuel type share in the industry. Industry players must acknowledge and prepare for these changes to navigate this evolving environment effectively. 
The impact of supply and demand on valuations in the used sector has become remarkably evident, particularly in recent months. Significant volatility in used car values has arisen in the used Battery Electric Vehicle (BEV) sector, where oversupply has coincided with low demand. Consequently, this has posed challenges for accurately setting residual values, highlighting the delicate balance between supply, demand, and market dynamics in determining valuations. 
Out with the new, in with the old
The shifting dynamics of the used market present several challenges for retailers. A decreasing number of ICE vehicles, particularly in the zero-to-36 months market, has resulted in strong demand for petrol or diesel vehicles that are "retail ready." However, the available supply needs to meet demand. Retailers, cautious about investing in BEVs, cite recent volatility, lack of knowledge and limited capabilities as barriers. As a result, the market has seen a rise in older and higher mileage vehicles on forecourts, reflecting retailer caution about electric vehicles. 

Retailers operating in the used market face the added complexity of maintaining clear and concise stock profiles, implementing ageing policies, and expanding purchase channels and supply chains. As BEVs become necessary for stock profiles, recent volatility has highlighted the importance of properly positioning prices and managing inventory for these vehicles. In many cases, those who have invested time and expertise in the emerging pre-owned BEV market have demonstrated the value available in this segment. 
Certain areas in the market still need to be clarified, such as the agency space and OEM intentions to dominate the nearly new and pre-owned market. The entry of new players, such as Chinese company BYD with its Seagull and Dolphin vehicles, raises questions about their impact on the existing BEV parc. Assessing the market value of technologically older, used BEVs compared to the reported cost of entry for the latest models, with minimal risk, also poses a challenge. These new entrants are set on building market share through volume and commercial incentives. 

The long-term influence of strategies being wheeled out in the new market on its used sibling remains unknown despite uncertainties. However, with supply constraints in a low consumer confidence economy and used vehicle values consistently surpassing pre-pandemic levels, concerns of a "cliff edge" in used vehicle values should diminish once the economy stabilises. Caution towards the BEV market may prevail in the short term as volume increases and knowledge expands across all sectors. That, along with the rise of alternative fuels and battery electric as the dominant fuel type, will arguably see caution fading.
Sold price as a percentage of original new price - BEVs only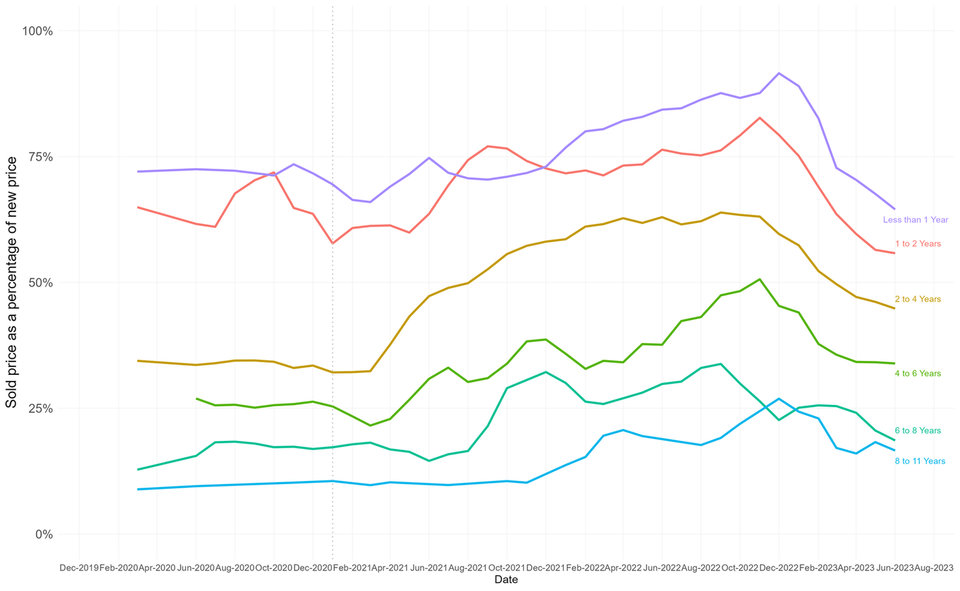 Sold price as a percentage of original new price - all fuel types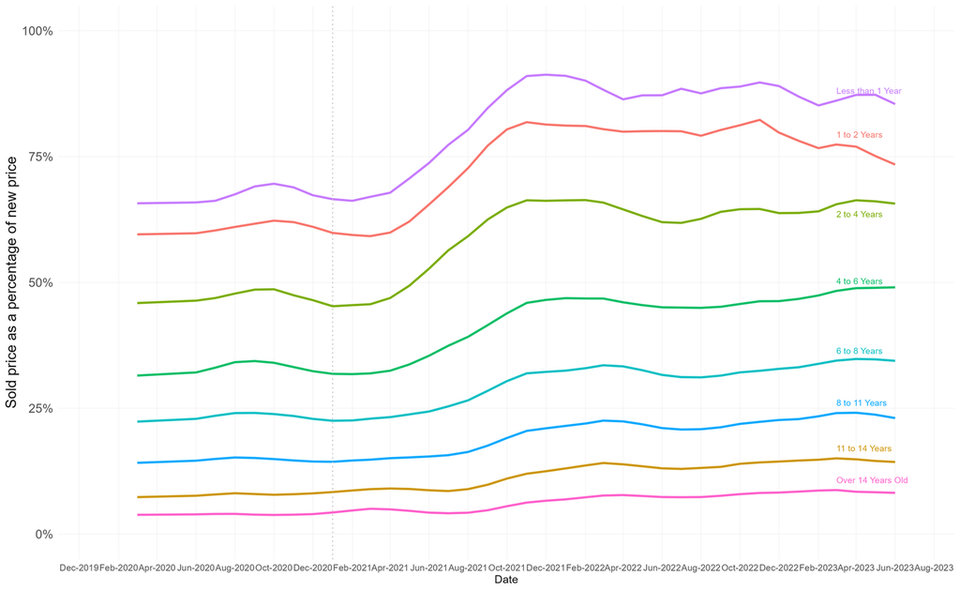 The current state of the electric vehicle market poses a potential risk for the used car sector. While 64% of franchised dealers stocked BEVs as part of their used vehicle inventory in 2022, just 11% of independent dealers did. This creates uncertainty around the pricing and availability of pre-owned electric vehicles, which could lead to cautionary buying behaviour from both retailers and consumers.
By the end of 2023, more than a fifth of 0-1-year-old vehicles in the UK parc is expected to be a BEV, and this figure is projected to increase to 41% for 1-3-year-old cars by 2027. To keep pace with this rapid market shift, the sector must prioritise education, knowledge-sharing, and legislative measures to support the ownership and stocking of pre-owned electric vehicles.
Without collaborative efforts to improve awareness and infrastructure, the used car sector risks falling into a 'valley of death' where the new market moves faster than the appetite for pre-owned BEVs.
So far this year, the used market has certainly been a tail of two halves, with extremely strong used market performance during Q1. Conversely, seasonal cooling has been witnessed in May and June as much more volume/choice is evident, which matches the slower retail activity highlighted by dealers during Q2.

We've seen a marked shift in the volume of LCV stock passing through our de-fleet and auction sites since the beginning of the year. May was our fifth consecutive month of increasing stock numbers, surpassing our highest-ever volume of LCVs handled. 2023 has had the strongest start to a year that we've ever experienced, with more than 25,000 vans being de-fleeted across our vehicle services and auction operations as of the end of May, a 29% year-on-year increase.

Return age and mileage are becoming a concern. The typical de-fleeted LCV is, on average, two years older and carrying 18,000 more miles today versus pre-pandemic market averages. Our H1 figures showed that the average age and mileage have risen to 80 months and 82,000 miles respectively.

Overall average selling prices are finding a new norm today. The average selling price for Euro5 LCVs at £4,660 (with an average age of 10 years) and Euro6 vans at £11,619 (with an average age of four years), highlight a 35-40% uplift v 2019 averages.
However, we must remember that a value drop has been an inevitability. The market would always settle once new vehicle production was back on stream and used volumes returned to nearer normal levels. The pronounced drop is from a false 'high' and must be viewed that way.
Matthew Davock
Director of Commercial Vehicles, Manheim Auction Services
The used market experienced continued fading momentum and lacklustre performance this spring as supply limitations, tighter credit, improving new vehicle inventories, higher interest rates and lower tax refunds resulted in used sales losing ground compared to last year. Through May, used sales are down 2% compared to the previous year, and down 10% from a record year in 2022. Despite declining sales momentum, retail used supply remains tight. Total inventory levels have been down 10-20% compared to a year ago and down 20-30% compared to 2019. Affordability started to improve in the spring as used loan interest rates remained below the March peak and wholesale price declines led to retail prices falling again. However, demand was not helped by 2023 tax refunds, which delivered 1% fewer refunds, 8% less in total refunds and a 7% decline in the average refund. With weak sales this spring, wholesale prices began declining and lost all the gains from the first quarter. We expected the used vehicle market to be challenging in 2023, and at mid-year, the outlook is mostly the same as we are on pace to see a year that will likely be down 2% from the previous one. With tight supply in retail and wholesale, we expect improving affordability to lead to more normal depreciation in the back half of the year. As a result, the Manheim Index is expected to be down 1% year-over-year in December. The year's price performance would be another year of above-average decline but much less than that experienced in 2022.
Jonathan Smoke
Chief Economist, Cox Automotive Inc.