More turmoil in the automotive sector
In this section, Grant Thornton
describes in detail the factors impacting new car production and
the knock-on effects downstream.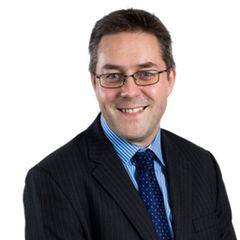 Owen Edwards, Head of Downstream Automotive
at Grant Thornton UK LLP
In the last issue of Cox Automotive's Autofocus, we wrote
that the automotive industry would experience more change in the next five years than during the previous 50. Since then, however, we have seen change and disruption globally, not just for the automotive sector but nearly every industry and sector.
Looking back only a few years, the European and UK automotive sector has been through significant change,
impacted in 2018 by Worldwide Harmonized Light Vehicle Test Procedure and 2019 by Real Driving Emissions. In 2020, Europe was affected by the introduction of the Clean Air For Europe 2020 and the global automotive industry was impacted by COVID, causing disruption through a series of lockdowns that closed factories and dealerships. There was no let-up from disruption in 2021, with COVID affecting the supply chain with the shortage of semiconductors and selected raw materials, which in turn led to a global shortage of vehicles. These disruptions focused the minds of those in the automotive industry, and many of the OEM and dealers changed their trading practices, leading to improvements in profitability. Nevertheless, disruption was not over: Russia invaded Ukraine on 24th February 2022, and the war continues to rage in Ukraine, with little indication of a peaceful resolution in the immediate future.
How will this conflict affect the automotive industry?
Many countries reacted to this conflict, imposing sanctions on Russia in order to generate pressure that would lead to a resolution of the conflict. However, this political and economic pressure continues, and this conflict will generate challenges that the automotive sector will overcome in time. As can be seen, by the following map, both Russia and Ukraine play an important part in the European and Global automotive ecosystem.
There are 34 automotive assembly and production plants in Russia and seven in Ukraine. They produce passenger cars, light commercial vehicles, heavy-duty vehicles, buses, and engines. Russia has 18 plants for cars (Ukraine; 3), three for vans, nine for trucks (Ukraine; 1), six for buses (Ukraine; 3) and eight for engines
As well as assembly plants based in the Ukraine and Russia, the rest of the supply chain, from raw materials to sales and operations, will also feel the impact.
Gases and microchip production – It is estimated that Ukraine is the source of more than 50% of the world's output of Neon and 40% of the world's Krypton, which are needed in the manufacture of semiconductor chips. As these gases fail to reach the semiconductor plants, it is likely that, even if the new semiconductor plants were brought on in the next few months, there will not be sufficient gases to fulfil the required demand. Therefore, further shortages in semiconductors should be expected, compounding the current scarcity of global vehicle supply.
Palladium and platinum – Russia is the primary supplier of palladium, which is used for catalytic converters. Germany relies on Russia for one-fifth of its imports of palladium. Emissions legislation in the UK and Europe has meant that vehicles have been designed to use palladium and platinum in order to meet emissions requirements, and we are not aware of a short-term solution for not using these metals
Wire harnesses – Ukraine produces a large number of wire harnesses which are used in car production. According to Reuters, supplier companies like Leoni, Fujikura, and Nexans are struggling to supply wire harnesses, which has affected production in Germany for VW, Audi, BMW and Mercedes-Benz. Ukraine supplies 7% of all wiring harnesses for the EU (Wire harness shortage: War in Ukraine affects production of Porsche, BMW (motor1.com))
Aluminium – Rusal in Russia made 6% of world output in 2021. As can be seen from the chart the largest producer of Aluminium in China; however, Russia outside of China play a large part in the supply of Aluminium
Aluminium Production by Country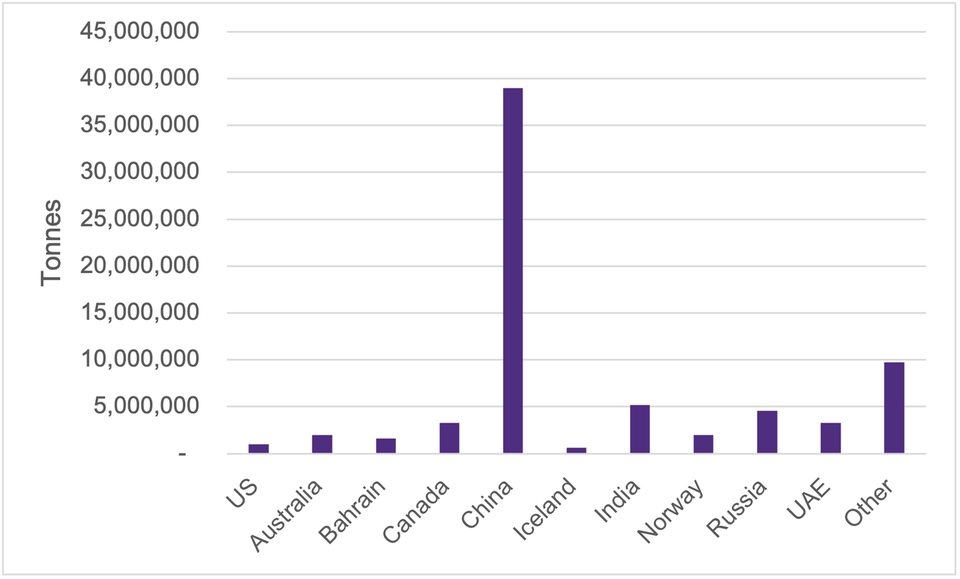 Source: US Geographical Survey
There is already a deficit of supply for aluminium in 2021. Macquarie expects the aluminium market to experience a deficit of 1.8 million tonnes in 2022 after a shortfall of 1.5m tonnes in 2021; this forecast does not account for any sanctions imposed on Russian aluminium (Aluminium shortages to deter blanket sanctions on Rusal - analysts | Reuters). Shortages of aluminium are expected in the coming months, which will drive up the price of raw materials.

Cobalt – Russia is the second-largest producer (2021), producing 4% of global output. Cobalt is a common component of lithium-ion batteries used in electric vehicles, and the price of cobalt has increased alongside other raw materials for batteries such as lithium and nickel. There is little reason to expect a decline in the price of raw materials in general in the short-to-medium term.
OEMs, direct impacts - Volvo Trucks has halted production and sales to Russia, and this accounts for c3% of Volvo truck sales. BMW and Mini has also stopped production at its Oxford plant due to the disruption in the supply chain. Jaguar Land Rover has halted all its sales to Russia. VW, BMW and Toyota have suspended production in their plants in Russia as well as shipments to the country. Russia is Renault's second biggest market, and Renault accounts for 39.5% of Russia's vehicle production. Mercedes-Benz may divest its 15% stake in KamAZ, a Russian manufacturer of trucks. Daimler Trucks have also suspended cooperation with KamAZ. Inside Russia, AvroVAZ has stopped production at two of its plants due to a crisis in supply of electronic components. In Europe, other manufacturers are suspending production due to supply chain shortages and logistical challenges
Further shortages of vehicles are anticipated, and the shortage of semiconductors will continue longer than expected. Our initial expectations were for a return to normal production by the end of 2022/early 2023, but this now appears unlikely. Raw material prices will continue to rise, and some of these costs will be pushed on to the consumer. Furthermore, general increases in the price of oil, gas and electricity are also expected to continue. This is likely to weaken consumer confidence, whose disposable income is expected to come under pressure, with the Bank of England forecasting that inflation will rise to 7% in 2022. Further rises in inflation could provide a catalyst for future interest rate rises. Consumer confidence is likely to be undermined, in turn reducing demand for new and used vehicles in the UK.
UK Consumer confidence Jan 2020 to Mar 2022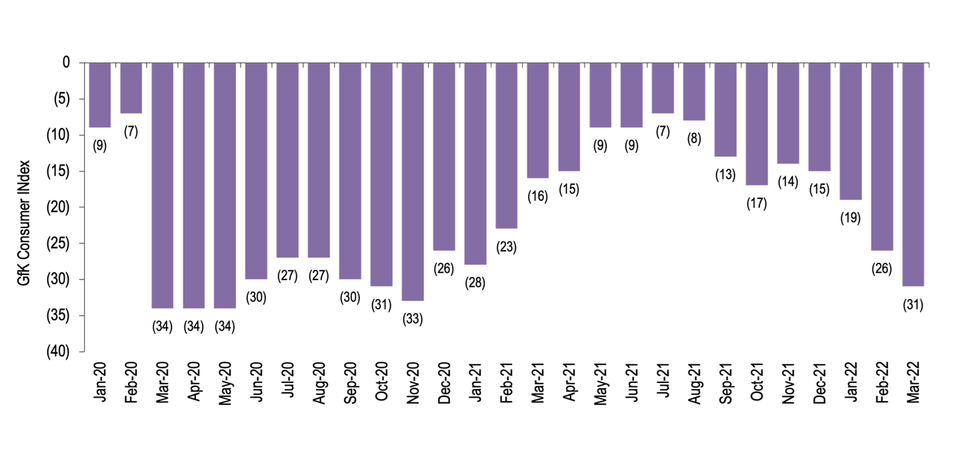 Further disruption in the automotive supply chain and vehicle shortages is expected to continue for some time, and this will impact supply in the used car market. Nevertheless, prices of used cars are expected to remain above pre-COVID levels; whether they remain at the high levels seen at the end of 2021 will depend on whether demand weakens.
UK average retail price of used vehicles by month Jan 2018 to Jan 2022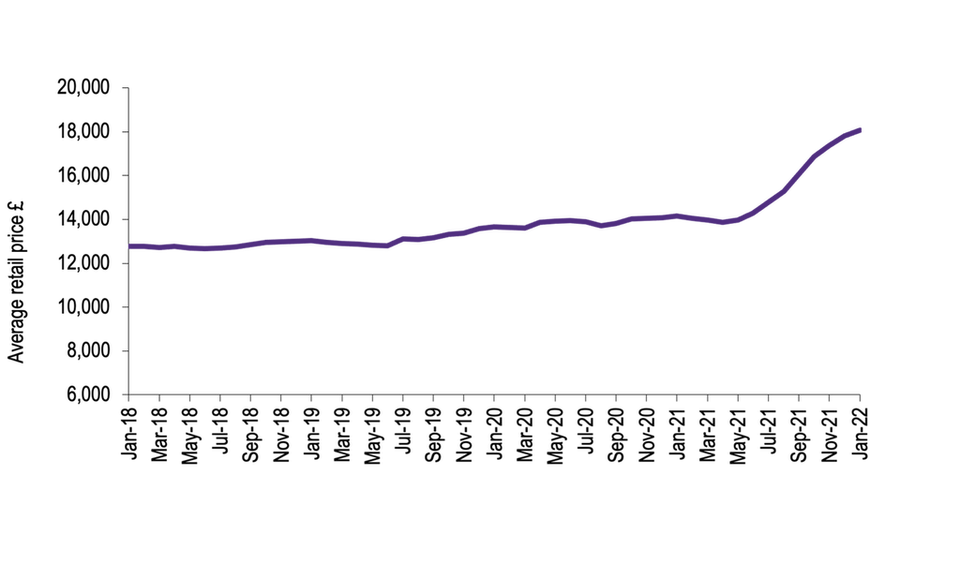 In conclusion, the automotive industry has been through significant turmoil over the last five years but has adapted well. The OEMs and Tier 1-4 parts suppliers have continued to invest in BEVs, and consumers are starting to change their purchasing habits, with BEVs now accounting for c18% of all new vehicles sold in February 2022 (source SMMT). In addition, dealer groups have continued to perform well with robust earnings results; in many cases, the Plc companies have provided trading upgrades to earnings. Although we still believe that the automotive industry will experience more disruption in the next five years than in the last 50 years, we at Grant Thornton are happy to support both upstream and downstream automotive companies in navigating these uncertain waters.