An uphill struggle to convince the masses to adopt EVs
In this section, Regit reveals its latest EV survey results.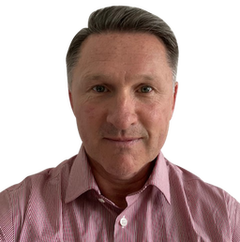 Chris Ashton-Green, Regit founder and COO
At Regit, we regularly survey our users on a wide range of topics, with thousands of respondents from different market segments all keen to have their say on anything from fuel costs and Clean Air Zones, to oil giants and the perception of OEMs.
I read each of these surveys exceptionally carefully, as there is always something surprising, and it's easy to follow one train of thought if you're solely focused on what's happening only within the automotive bubble and not listening to how consumers feel in the present.

The latest survey we've done for Cox Automotive and this issue of AutoFocus is just another reminder of that.
The topic was, of course, EVs and sustainability. We did something similar for Cox Automotive this time last year, so we've been able to draw a natural comparison with the results, and they present some interesting findings - some of which will alarm the industry, others that will please it.

The first thing to note is that there is still definite opposition to the Government's flat ban on the sale of new vehicles powered only by petrol or diesel from 2030. In fact, opposition to this is only getting stronger as time draws closer.

Of the 2,000 respondents that we surveyed, only 39% agreed with the ban, whereas in 2021 the figure was up at 49%. There will be numerous reasons for this, but one of which is certainly the perception of just how green EVs are.
There's been a lot of talk in the consumer press about the production process of EVs. At the same time, news of alternative fuels and how hydrogen, using one example, could be another solution instead of the mass adoption of electric is beginning to seep through into the mainstream.
"1 in 3 motorists in the UK will actively be considering an electric car when they make their next purchase - the question for brands is how brave they're prepared to be to influence the way millions of motorists feel about their next major buying decision."
Chris Ashton-Green, Regit founder and COO
Such news about the relatively high initial environmental cost of manufacturing an EV means 63% are well aware that the production of your average electric car is more damaging than its ICE alternative.
Now, of course EVs recoup that debt over their lifespan, and consumers know that, but there is still uncertainty there, and wider barriers to sale that exist today have seen very little movement over the last 12 months.
Of those barriers, price is still seen as the major hurdle with 73% stating this would prevent them from buying an EV, although this figure has improved slightly from the 79% that said the same this time last year.
70% have fears about range, which could be considered a surprise even if it's only a marginal increase from last year's 66%. However, it could also be argued this points to a lack of education in the consumer space about exactly how far some EVs can travel on one charge.
The new Mercedes EQS, for example, can do upwards of a staggering 450 miles, with Teslas and BMWs not far behind.
But to focus on these top-of-the-range models would be ignoring the bigger picture. The big issue with range, or apparent lack of it, is ranges are typically relatively low when we compare directly with price.
If you go to the more 'affordable' end of the market, consumers with £20,000 - £30,000 or around £500 per month to spend will continue to see the range as a serious barrier. Consumer options there are very inner-city focussed with attractive options from Fiat, Smart and MINI, but none of which top the 200 miles per charge barrier. These range figures are enough to create serious doubt for consumers who can, even in today's market, get plenty of car for that cost with the added comfort and familiarity ICE still provides.
Looking at other barriers and the picture starts to become better as there is clear evidence education and understanding within the marketplace is improving.
56% have concerns about charge time, down from 61%, 15% have concerns about the lack of choice, down from 21%, and just 9% now don't understand the technology, down from 15% in 2021.

And there is the broader context of the current market, which will prove to be a serious traffic driver for EV adoption.
The price of fuel has regularly been front-page news for the last six months, at least, and this ongoing worry about the cost of simply filling up your car to get from A to B means 37% are more likely to buy an electric or hybrid vehicle as their next car as a direct result of fuel prices. That's a huge market shift and one that provides a massive opportunity for every brand in our industry to really ramp up their marketing campaigns to generate market share.
We know from previous work that brand loyalty in the low and zero-emission age is lower than ever before. The loss of ICE for many has seen the majority of EV adopters become increasingly adventurous when it comes to seeing what brands they wouldn't previously have considered have to offer.
It's here where OEMs can directly answer the challenges that the barriers to sales pose to improve their own sales. This needs to be done with education at the core while pitching experiences that relate to the consumer's wants and needs in 2022 while giving that ongoing reassurance that infrastructure is available and improving - albeit too slowly to convince the masses it's good enough.
Evidence of this point is that a whopping 95% don't believe current infrastructure is good enough, an increase from last year's 92% and only 19% think it will be sufficient in 2030 - down from 30% 12 months ago.
But, despite this relatively mixed performance in terms of a consumer confidence picture for EV sales, 1 in 3 motorists in the UK will actively be considering an electric car when they make their next purchase - the question for brands is how brave they're prepared to be to influence the way millions of motorists feel about their next major buying decision.
For more information, or to arrange an interview with Chris Green directly,
please call Tom Gibson on 07894 705009 or email tom.gibson@regit.cars