When will new car supply improve?
In this section, we discuss the primary factors driving the current new car market and share our latest new car forecasts.
October saw a total of 106,265 UK new car registrations, down -24.6% on the previous year. This result falls within 1.7% of our recent 'most likely' forecast for October found in the Insight Report 2021, and takes year-to-date registrations to within 46k units of our worst-case scenario for 2021.
Pleasingly, total year-to-date registrations have increased modestly to 1,422,879, up +2.8% year-on-year. While 2020 was a pandemic-hit market where showrooms were closed for many months, we must remember that we had nearly three months of 'normal' market activity before COVID-19 really gripped the UK and Europe. The early months of 2021 were also hit with a further lockdown and showroom closures, so in context, this year's results are good – a clear sign of the industry's ability to adapt in the face of adversity.
Despite positive registration figures in 2021, the pandemic is not over yet and registrations remain down on pre-pandemic levels. The issues this year are related, but very different. Indeed, as the world emerges into a new post-pandemic world consumer demand has increased faster than anticipated. Restarting global supply chains isn't as simple as flicking a switch. It takes time for materials to be distributed and production lines to resume at normal levels in normal times; doing so while still navigating the challenges of a global pandemic only exacerbates the task. The automotive sector also found itself competing with other industries for materials.
These issues have affected the automotive industry as much as any other industry, perhaps even more so. It's clear that ongoing supply, production, and distribution challenges are going to be with us well into 2022. Until then lead times, which are already between 12 to 18 months on some vehicles, will continue to grow as manufacturers deal with a growing backlog of orders. No wonder that dealers and consumers are looking at alternative options in the used market.
Semiconductor and material shortages - a familiar story
We've spoken extensively in previous issues of AutoFocus and our latest Insight Report about how the global shortage of semiconductors and other key materials is impacting new car production, so we won't repeat the detail here. Suffice to say, these problems have severely impacted Q2 and Q3 registrations and will continue to do so for the remainder of this year and at least Q1 2022.
Compounding the problem, we're starting to see reports from Europe that magnesium stockpiles are running low in several parts manufacturing plants, threatening closures and further impacting new car supplies. While European manufactures insist that these shortages will not impact their production lines, car part suppliers and industry associations are warning that if the production of magnesium in China, which produces around 85% of global supply, doesn't pick up soon, then suppliers will face significant shortfalls of the material. This scenario would undoubtedly impact car supply.
It's easy to just focus on manufacturers when discussing new car supply problems, but it's important to highlight these shortages' impact on tier 1 to 4 supply partners. Car manufacturers, who are reliant on these partners, will want to ensure they are still in business once material supplies improve otherwise, this short-term pain risks becoming a long-term predicament.
Manufacturers must also balance their customers' needs. While most consumers will accept short-term delays on their new vehicle, and indeed these delays can allow manufacturers to maximise margin on each vehicle, how many will stick around when lead times extend beyond a year? Furthermore, if a customer's situation changes or they are offered an alternative, then the sale can easily be lost before the profit is banked.
"The new LCV market remains very positive, with many leading manufacturers reporting record-breaking vehicle order banks. The big question will be how long it will take to build and fulfil these orders. Some report production demand for at least the next two years, and the orders and demand month-on-month continue to rise. Other reports suggest as much as 405,000 LCVs have been ordered for the UK and not yet built, and this will only continue to be fuelled and accelerated by the c2.5 million vans on the UK roads today that are Euro 5/ULEZ non-compliant. This demand matches the added focus around LCVs electrification/alternative fuel LCVs, which suggests we are in for a very buoyant new vehicle market for at least the next five years."
Matthew Davock, Director of Commercial Vehicles
at Manheim UK
Two of the major trends – electrification and semiconductor shortages – are likely to continue to impact the new car market in the UK in the short to medium-term. The triple threat of COVID-19, Brexit, and supply shortages looms large, and it may take longer than anticipated for the market to fully recover from this.

But in the short term, we anticipate a continuation of the current market conditions, with some uplift in supply helping to drive sales as we progress through Q1 2022.
Based on recent sales and the ongoing supply and demand imbalance, the SMMT (Society of Motor Manufacturers & Traders) has downgraded its full year 2021 forecast in October to 1.662 million.

Building on recent new car figures, assumptions for the remainder of 2021, and in line with previous Cox Automotive forecasts, we have also adjusted our forecasts for the remainder of 2021 and Q1 of 2022
As ever, we give best, mid, and worst-case scenarios for our forecasts. With only weeks of the year remaining, the worst-case scenario looks to be the most likely, but as ever, there are significant, multiple, and complex variables at play.
New car forecast - Q4 2021 and Q1 2022 focus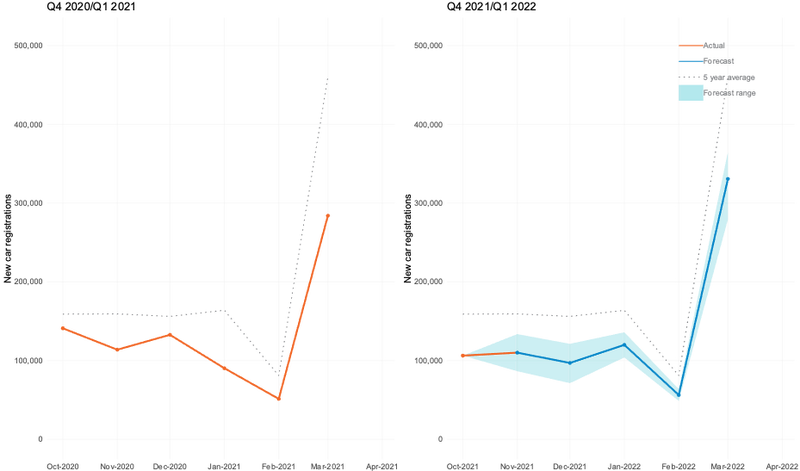 Source: Cox Automotive & Grant Thornton
Best-case scenario
Our best-case scenario sees 2021 end on 1.711 million transactions after a 394,743 Q4. While this is +4.9% higher than 2020 full year, it falls -26% down compared to 2019. In our Q1 2022 forecast we predict the quarter will end on 564,645 transactions, a +32.7% increase year-on-year, but -15% down compared to the 2000-2019 average.
Mid-case scenario
Our mid-case scenario sees 2021 end on 1.632 million transactions after a 315,122 Q4. This is level with performance in 2020 full year, but it falls -29.4% down compared to 2019. In our Q1 2022 forecasts we predict the quarter will end on 506,804 transactions, a +19.1% increase year-on-year, but -23.7% down compared to the 2000-2019 average.
Worst-case scenario
Our worst-case scenario sees 2021 end on 1.552 million transactions after a 245,204 Q4. This is -4.8% down compared to 2020 full yearand falls -32.8% down compared to 2019. In our Q1 2022 we predict the quarter will end on 431,787 transactions, a +1.5% increase year-on-year, but -35% down compared to the 2000-2019 average.
New car annual forecast 2021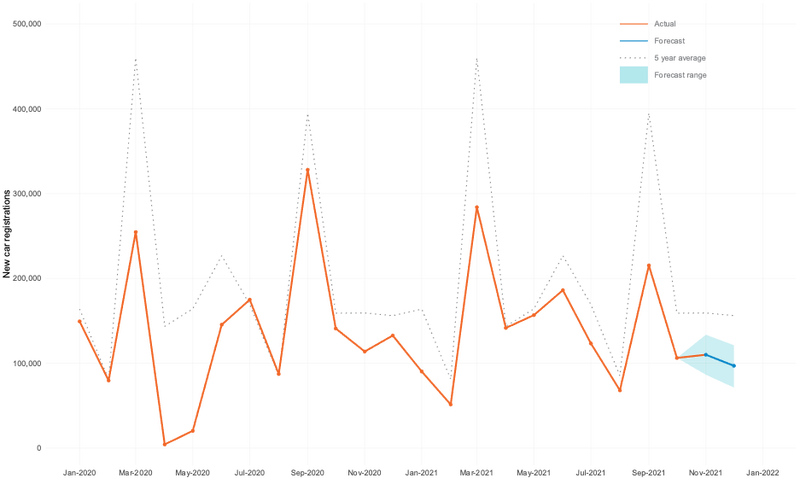 Source: Cox Automotive & Grant Thornton
"The new vehicle market in the US will start the new year similarly to how 2021 ended, with new supply severely constrained but seeing modest improvement from the absolute lows of the year. The first quarter should see the lowest sales pace of the year, but slowly improving production as the year progresses should deliver higher sales in the back half of the year. With constrained supply, manufacturers and dealers will continue to enjoy strong pricing power and low incentives. Credit should remain favourable to demand as the Federal Reserve keeps interest rates at historic lows until at least the second half of the year."
Jonathan Smoke, Chief Economist, Cox Automotive Inc.