Change ahead for dealer networks
In this section, the ICDP provides an overview of the factors having the biggest impact on dealers today.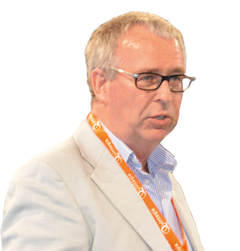 Steve Young
Managing Director of ICDP
Anyone who has been around the industry for a while knows that change is a constant, but we are now in a period where anyone who is involved in the world of car dealerships and repairers is going to face more rapid change across more fronts than they have ever seen. As the saying goes, 'the rate of change today is the slowest you will ever experience'. Given what we have all seen with Covid, electrification and chip-induced product shortages, that is quite a statement, but I believe it is true. Many of the pressures fall in the first instance on the franchised dealer networks, but there is a knock-on effect on the independent sector as some dealers leave the franchised network, and changes affect the supply of used cars and the competition in the aftermarket.
The primary driver of change is technology and how this affects products, processes, and customer behaviour. We are very familiar with the mandated move to electrified powertrains. However, technology also affects dealers and repairers through what is being incorporated into advanced driver assistance systems (ADAS), other forms of safety equipment, connectivity, and new product features.
This transformation of product technology puts additional pressure on sales processes and staff to explain the implications to prospective buyers, and more significantly, on aftersales as some of the technology changes reduce the volume of service and repair work. However, any work that is required is more complex, requiring investment in training and equipment.
Technology in terms of digitalisation is also affecting processes and customer behaviour. We are all familiar in our day-to-day lives with the shift to online shopping and living our lives through our smartphones. All new cars are also connected with huge volumes of data available on how the vehicle is used, what features are used, how it is driven, and any developing faults. B2B business processes are almost universally connected digitally, and even the last bastion of repairers phoning up parts distributors to order urgent parts is beginning to crumble with new tablet-based applications that make it easier for the technician to identify and order a part (and get fitting instructions) without stepping away from the ramp. All of this leaves a digital trail that can be leveraged through advanced data analysis – so called 'big data' or data science – that can inform better decision making by businesses such as highly tailored marketing, improved supply chain planning and the development of more customer-focused products.
"The primary driver of change is technology and how this affects products, processes, and customer behaviour."
Steve Young, Managing Director of ICDP
The combination of these changes is driving the changes that dealers will face in the next few years and beyond. Whilst ICDP consumer research consistently shows that the majority of car buyers still want to conduct at least some of their purchase journey in a dealership (and only around 5% want to buy purely online), the majority also want to use online for at least some part of the journey. This is a so-called omnichannel buying journey where customers have a choice of channels and can use them flexibly. This drives the need for investment in online channels and their close integration with physical channels so that the customer can switch back and forth in a seamless way without the need to explain at each stage where they have got to. The investment applies at the manufacturer and dealer level and is not just about the websites and CRM systems but also the skills to respond in an appropriate way and interpret the data generated to improve the business.
Our research shows that although the dealers remain important to buyers, they are willing to travel further to get to a dealership than the 30 minutes traditionally used for network planning and are actually spending more time visiting more dealers than they did five years ago – contrary to widely held views to the contrary. We believe that this is because the quality of information available through online research across multiple sources gives the buyer greater confidence that a dealer visit will not be wasted and that they are armed with the specific questions that they need answers to (as well as a good idea of what that answer should be, for example on a trade-in value). We therefore have more dealers in typical networks across all European markets than are really required, and this is what pushes the sales per dealer down to under 400 as an average and a best of under 600 in the UK, even in a good year. This contrasts with over 1,000 in markets like China and the US. Manufacturers have been reluctant to cut back networks significantly because they fear that they will lose market share if they have so called open points, but our research suggests that cutting typical networks by up to half would only increase average drive times for buyers by a few minutes. This message is starting to get through to manufacturers, so we will see much larger reductions in sales networks in the coming years.
Although customers are also willing to drive farther for aftersales than in the past, there is still a big gap, and convenience remains a key deciding factor choice of repairer. Therefore, a reduction in sales points cannot be reflected in the same reduction in the number of service points. Over-the-air updates, reduced servicing requirements and improved reliability will all help, but we will need more variety in dealer formats, with some standalone service points either owned by the franchised dealer or operated independently as an authorised repairer, and potentially more mobile service, similar to that operated by Tesla and by some dealers for fleet customers. In addition, the facilities themselves will not be as large or as highly specified as in the past. Whilst some 'gin palaces' will remain as the result of legacy investments and an arguable need for some flagship destinations, the typical dealership will have fewer square metres, be built to a lower standard with more flexibility from the manufacturer and will more often be multi-brand. This forms part of the current Stellantis restructuring with their 'Stellantis Houses', but we also expect manufacturers to be more open to non-family brands sharing showroom space, or at least sharing sites, workshops and back-office support. All of this will release cost from dealer networks to reinvest in digital and improve financial returns.
Bringing all of this together in a network all depends on an effective relationship between manufacturers and dealers, traditionally operated under a franchise agreement, but now challenged first by newcomers like Tesla using a direct, manufacturer-owned sales model, and more recently by the introduction of agency models to whole markets. Under agency, the dealer is still the representative of the brand in the market, but they operate under the direct control of the manufacturer who owns all the stock, must take on all brand-related risk, but can then set prices. This eases the omnichannel journey as pricing will be consistent across all channels and in all dealers, but it also shifts all volume and stock risk to the manufacturer and requires them to act as retailers. It is clear that a number of manufacturers – notably Mercedes and Stellantis – will go down this route, but others will choose not to. They will, however, have to modify their franchise systems to compete in an omnichannel world, and that still implies less stock push, more centralisation and pooling of inventory and restructured margin and bonus systems that incentivise the desired behaviours.
Beneath these megatrends affecting dealers, the waves spread out, affecting all areas of manufacturer network management, dealer operations and the responses of independent players. Everyone, at all levels and in all parts of the industry, will be affected. In future issues of AutoFocus, I will explore these in more detail. There are challenges ahead, but also rewards for those who respond best.